resume templates
0 - 5 years of experience
Resume Templates That Will Land You a Dream Job!
Pick a resume template below that represents your skills and work experience the best. Our ATS-friendly resume templates are developed together with recruiters and employers, so you are sure you are putting your best foot forward when applying for a job position.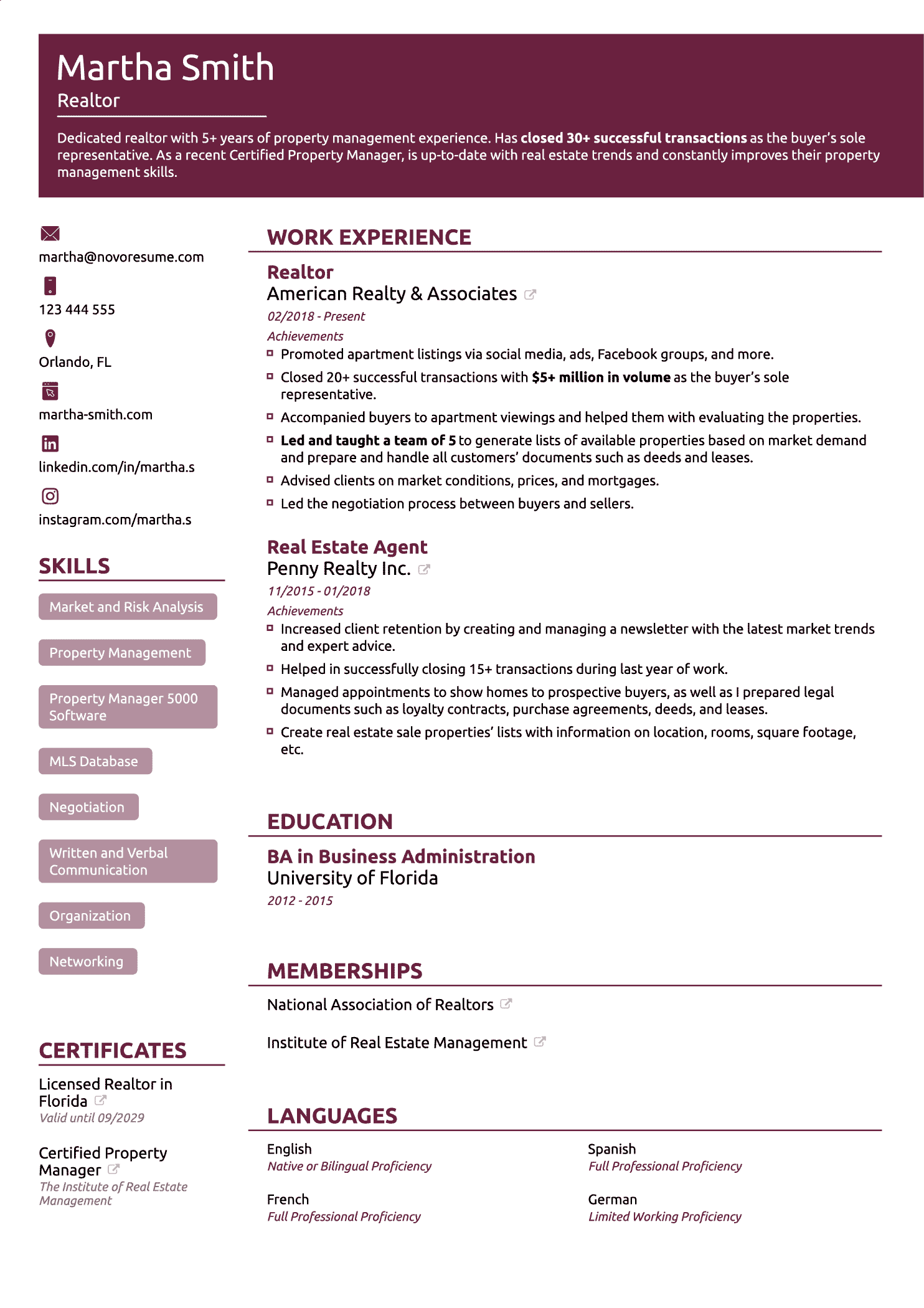 Functional resume template for all industries that will emphasize your strengths and work experience.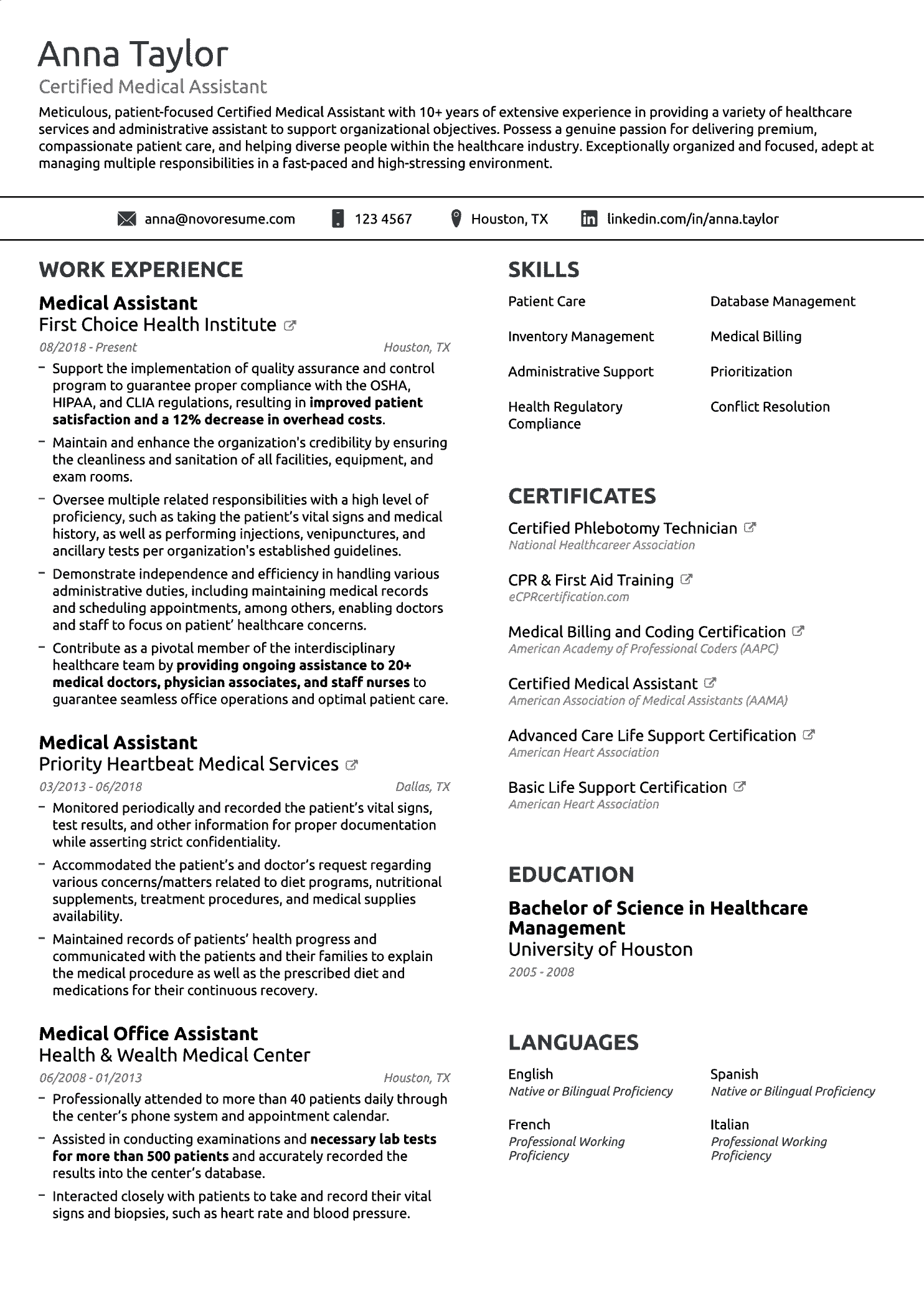 Easily personalize this basic resume layout that can be completed in under ten minutes through our intuitive process.
See what our customers have to say
More about resumes
What Is a Resume?
By definition, a resume is a brief summary of personal, professional experiences, skills and education used for job applications. It is NOT the same as a curriculum vitae (CV), which provides a more detailed summary of professional and educational histories. Most job recruiters will ask for a resume and accompanying resume Cover Letter as part of a job application.
Because each job opportunity is different, the resume you use for each application should be slightly different. Once you create your resume and fill out all of the key sections, you will make small changes in order to customize it to particular job opportunities. In this sense, your resume is a living document.
What to Put On a Resume?
Every person's resume looks a little bit different. However, there are some key elements that everyone should look to include. These are Key Skills, Achievements, a Professional Summary, Professional Title, Contact Information and Experience (Work and Education). How you organize each of these elements within different sections depends on where you are at in your career, and how relevant certain sections are to the job you are pursuing.
For example, you may not have enough Achievements to warrant putting these in their own section, but instead you can include them under other sections, such as when describing your work experience. Also keep in mind that there are several other sections you can put on your resume, including Volunteer Experience, Interests, and Certifications, among others.
How to Write a Resume For the First Job?
Creating your first resume can be tough since more often than not you will not have a lot of work experience to list. Students or new grads looking to make their first resume should include all past employment, volunteer work and education dating back to high school.
They will also want to make sure that their resume includes relevant school projects or other extra-curricular activities. Consider including skills drawn from personal interests as well.
How to Format a Resume?
There are three typical resume formats: reverse chronological, functional and combined. The reverse chronological format is the most commonly used resume format because it prioritizes your most recent work experience or education. It is well-suited to job applicants at any stage of their careers.
The functional format is better suited to people who want to work in skills-based jobs or need to give particular emphasis to skills because they have gaps in their employment history or want to make a career change. That's because the skills section is given greater attention than work experience or education. Finally, the combination format is the middle ground, giving equal weight to skills and experience.
How Long Should a Resume Be?
From our research, it was found that most of the recruiters recommend using maximum one page for your resume, especially when you are a student or having less than 5 years of relevant work experience.
If you have more than 5 years of work experience and many other relevant activities that are relevant to the job you are applying for, the appropriate length would be 2-3 pages.
How to Write a Resume Summary?
A resume summary is your opportunity to "hook" whoever might read your resume. Your summary follows your contact information at the top of your resume. It provides a quick preview of the contents of your resume using persuasive language.
The summary should be 50 words or less and should highlight the main experiences or qualifications relevant to the job description. Offering concrete examples of your past achievements is a popular strategy as these are more likely to entice recruiters to learn more about you.
How to List Skills On A Resume?
There are two types of skills you may want to include on your resume: hard skills and soft skills. Hard skills refer to those skills which are teachable so they are often more technical-focused. Language skills, computer programming skills or abilities with certain equipment are examples of hard skills.
Soft skills are not directly teachable but are built up over time through work experience. These might include leadership, organizational or verbal communication skills.
Depending on your mix of skills, you can choose to combine hard skills and soft skills on your resume, or you can give each their own section. In both cases you simply list the skills. Another common approach is to provide a skills summary, where you elaborate on certain skills you possess that are particularly relevant to the job for which you are applying.
Which Is the Best Resume Template?
This is very subjective, and each recruiter/employer has their own preferences. Thus there is no "best resume template" that will be suitable for all the positions/jobs.
Our suggestion to constantly analyze the industry and each company you are applying for and adapt each resume layout for a specific position.
Expert Reviews
When I consult people on resume writing, the most common question that I am asked, it is about the content and what components to add or avoid, there where they have less than 5 years of work experience. On this platform, you not only have access to many options, but you get guidance on what to choose and why. When the work experience is less than 5 years, the other components such as languages, projects, volunteering experiences, hobbies etc, they make a huge difference. The platform guides you through different options helping you decide for the most relevant components to add to your resume.
For over 10 years now, I've been on both sides of the fence, career counseling, and recruitment, and let me tell you, the writer's block hits hard when it comes to drafting your resume. Novorésumé not only offers you a smart and modern template for you to fill in, but their team has also crafted a winning combo of aesthetics and functionality that will inspire you to apply for the job you thought was out of your league. Give it a try!
More about our templates
How to Make a Resume?
The first step in writing your resume is to choose one of the resumes available above, ranging from simple resume to creative resume, depending on the industry or company you are applying for.
Not sure with which one to start with? Simply select a resume layout that catches your attention, because after that, you can switch between all of them once in you are in the editor by pressing the "Templates" button in the top menu.
Are These Free Resume Templates?
Using our free resume builder, the one-page resume can be used for free together with the Basic features (the ones without a Premium star next to them).
Most of the premium features can be tested in the free resume templates as well; the only difference is that downloading a resume using Premium features in the Basic account will not be possible.
How to Make a Cover Letter For a Resume?
When applying for a new job you will need to create a resume cover letter. After creating your resume, you can simply choose a cover letter sample with the same design, fonts, and color theme to create a professional job application.
Make sure to tailor each cover letter and resume for each specific job application.
What If I Am a Student?
The above layouts can be used to create a perfect student resume or college resume when you are looking for a part-time job, internship or are about to graduate.
You should keep in mind that as a student or someone with less than 5 years of relevant work experience, you need to keep your resume on 1 page.
Who Created These Resume Samples?
All of the resume samples available on novoresume.com are created by a professional graphic designer after doing extensive research with recruiters and employers in order to make sure that the resume you will create makes for a better read and that it will increase your chances of getting hired.
What Is the Difference Between the Creative and Simple Templates?
The creative template is specifically designed to grab the attention of the recruiters and make you stand out among other candidates. However, we recommend using this template for more creative jobs/industries or when applying for start-up positions for example.
The simple template has a classic design and structure specifically designed for when applying to industries where a toned down approach to the job application is still required, for example, the law or banking industry.