Recently graduated and looking for a job?
Or maybe you're still in college, applying for your first internship?
Whichever the case might be, you'll need a strong resume to stand apart from all the competition.
And yes - the whole process can seem super scary if you don't have a lot of work experience. 
After all, what can you even include in your resume, if you've never worked a day in your life?
Worry not, we've got your back! 
It's actually pretty easy to create a compelling resume, even if you're just a student starting out their career journey.
And in this guide, we're going to teach you how. Here's what we're going to cover:
All the essential sections to include in a student resume
How to list work experience on your resume, and what to do if you don't have any
How to create a compelling resume that stands out (with zero work experience)
3 student resume examples to get you inspired (high school, student, and graduate levels)
Ready?
Let's dive in:
What to Include In a Student Resume
First things first, let's talk about which sections to use on a student resume.
The essential sections for a student resume are:
Contact Information.
Resume Objective
Education
Work Experience (if you have any)
Skills
If you don't have much work experience, you can also use the following optional sections to stand out:
Projects
Volunteering
Awards and Qualifications
Hobbies and Interests
Languages
Of course, you don't have to include ALL of these sections, just the ones that are relevant for your resume.
Now, let's dive into all these sections one-by-one, and explain how to do each right.
Show Contact Information on Your Resume - How-To & Examples
Contact information is the most critical section on any resume ever.
Sure, it's not that hard to mess up, but if you make a single typo - you risk messing up your whole application because the HR manager couldn't get in touch with you.
It goes without saying that you should double-check, and even triple-check that everything in this section is up-to-date and accurate.
Here's what you should include in your contact information section for your student resume:
Contact Information for a Student Resume:
Must have information:
First Name, Last Name - Jane Doe
Phone Number - 451-483-6924
Email address - jane.doe@gmail.com
Location - Chicago, USA
Optional information:
Title - Your professional title. If you don't have a lot of experience, feel free to insert the position you're applying for or your current position - e.g. Business Graduate 
LinkedIn URL - Do you have an up-to-date LinkedIn profile? Mention it in your contact info! Sure, it's not a game-changer on it's own, but a good LinkedIn profile shows the recruiter that you're serious about your career.
Social Media - Do you have a published portfolio online? For developers, this could be your GitHub, for designers - your Behance or Dribbble, and so on.
Website / Blog - Do you have some form of online presence that's relevant to your job? Let's say you're applying for a job as a content writer, and you have a personal blog where you review tech products. You want to include a link to show off your writing skills.
What NOT to include:
Date of Birth - The HR manager doesn't need to know how old you are. Unless it was specifically requested in the job ad (e.g. bartender), keep your age off your resume.
Headshot - Same as above, unless requested (e.g. modeling), keep your headshot off your resume. After all, you're looking for a job, not a date!
Unprofessional Email Address - List your professional email address (e.g. first name + last name), not whatever you made in grade school (jackisabigboy@gmail.com).
Student Resume: Summary or Objective?
Did you know that the HR manager spends around 6 seconds, on average, scanning each resume they get?
That's right.
Your carefully worded resume just gets 6 seconds to convince the recruiter that you're relevant.
So, how are you supposed to do that?
Why, by using a resume summary or objective, of course!
If you're new to resumes, a summary/objective is a short statement that goes on top of your resume. It's main use is to show the recruiter that you're relevant in a single glance.
Here's what that looks like:
Now, you're probably wondering, what's the difference between a summary, and an objective? Here's your answer:
Resume summary - Main focus is on your work experience. You'd use a summary if you have 2-3+ years of work experience.
Resume objective - The focus is on your skills, education, and goals. An objective is perfect if you don't have any work experience.
Now, let's explain how to write each:
How to write a student resume summary
A resume summary is a 2-3 sentence summary of your career achievements and work experience that goes at the top of your resume.
You'd go for a resume summary if you got started with your career early, and already have 2-3 years of work experience (if you don't, you just go for a resume objective! More on that later).
Here's what a resume summary might look like for a recent college grad:
College Student Resume Summary Example:
"Recent college graduate with a B.A. in English from University X seeking an entry-level job as a content writer. Previous experience includes working as an English tutor for 2 years at University X, having worked with 100+ students, helping them improve their essays. In addition, managed a personal blog about tech, publishing over 40 articles in the last 3 years."
Don't have a lot of work experience?
No problem!
Here's how to write a resume objective instead:
How to write a resume objective as a student
A resume objective, as we mentioned before, is basically the same thing as a resume summary, but with a focus on goals, objectives, skills, and education instead of work experience.
In your student resume objective, you include:
What your field of study is.
Relevant skills
Why you're applying for the position and what you can do to help.
Here's a student resume objective done right:
College Graduate Resume Objective Example:
"Finance student with a 3.92 GPA seeking an entry-level Financial Analyst position at Company X. Skilled in financial data analysis, and reading financial sheets, with excellent knowledge of accounting and tax legislation. Hoping to help Company X improve their activity-based accounting techniques and grow within the company."
All clear?
Good!
Now, let's move on to the next section: education.
Emphasize Your Education and Certificates
Education is one of those sections that sound simple to structure, but requires a lot of details.
You insert all the schools you attended in chronological order and done. You move on, right?
Not exactly.
There's a ton of details that make up an education section.
Does your education section go on top, or under your work experience?
Should you mention your GPA, even if it's not all that good?
How do you mention your awards, honors, and so on?
See? Not quite so simple, is it?
Let's start with the basics: how to list education on a resume, how to format it, and what to mention within.
Here's what a typical education entry includes:
Program Name: E.g. "B.A. in Business Administration."
University Name: E.g. "University of Texas at Austin"
Years Attended: E.g. "08/2008 - 06/2010"
(Optional) GPA: E.g. "3.9 GPA" 
(Optional) Honors: E.g. "Cum Laude, Magna Cum Laude".
(Optional) Academic Achievements: E.g. any interesting projects or papers you've written.
(Optional) Minor: E.g. "Minor in Psychology."
Here's what that might look like on a real resume:
If you don't have much relevant work experience, make sure to put your education section on top of work experience.
And finally, here's some other essential tips on your education section:
Mention your latest educational entry on top.
If you have a university degree, don't mention your high school at all.
ONLY mention GPA if you had an impressive academic career (i.e. 3.5 GPA or higher).
Now, let's move on to the next section on your student resume: work experience.
How to List Your Work Experience as a Student
When applying for a job, the number one thing recruiters want to know is if you can really do it right.
And one sure way to check that is to look at your past experience.
But what if you don't have any?
Don't worry, we'll cover that below!
If you DO have work experience, here's how you list it on a student resume:
How to list work experience as a student
When listing your previous jobs, you should follow a reverse-chronological order, and go with the standard work experience format.
Which is as follows:
Job Title and Position - The first section the HR manager will check. To keep things simple, you can just use the exact name you saw in the job ad you're applying for.
Company Name, Description, Location - Describe the company in 1-2 sentences, and be sure to mention the location (country, city) of the firm too.
Dates Employed - Simply list how long you worked at the previous role for. If you don't remember the exact dates, feel free to give an approximate. Standard format for dates is: mm/yyyy 
Achievements and Responsibilities - When possible, you should always list achievements over responsibilities. After all, the HR probably already knows what your responsibilities are. And with achievements, you should list any specific changes you made possible (use data and numbers!), that the HR manager could apply to their company. 
And here's what that looks like in practice:
Pro Tip:
For more tips and tricks on how to best present your work experience, check out our complete guide to the work experience section.
Student Resume FAQ
Q —
Should you list irrelevant work experience in a student resume?
Most students don't have much professional work experience.
What they DO have is some experience doing part-time work during university, summer break, etc.
So, you're probably wondering, is your part-time summer server experience something you mention in your resume?
The answer is yes.
Even though the experience is probably not relevant for the job you're applying for, it shows the recruiter that you have SOME work experience.
Q —
2. What to do if you don't have any work experience?
Here's the thing:
Most college students don't!
And this shouldn't stop you.
For most entry-level jobs, the HR manager knows that the candidates are students with not much work experience (and that's OK!).
Instead of work experience, you can focus on the following sections:
Internships - Have you done an internship that's relevant for the position you're applying for? Here's your chance to mention it. Format it like the work experience section (see above).
Extracurricular Activities - If you still have a lot of empty space in your college resume, extracurricular activities are always a great addition. Whether they're related to your job or not, they still show that you're passionate and hard-working. Activities can include anything from personal projects to organizations or groups you're part of.
Volunteering Experience - Volunteering shows that you have a cause that you care about (and that you're willing to work for it!). And there's nothing a recruiter loves more than a dedicated employee. Whether you spent some time at the soup kitchen, or just helped collect trash in the parks, you can always mention your experience in your resume!
Projects - Finally, in this section, you can add just about any type of project you've participated in, as long as it's relevant. Graduation thesis, coursework or personal projects, all of that goes here.
Here's a student resume example that focuses on volunteer experience and personal projects instead of work experience: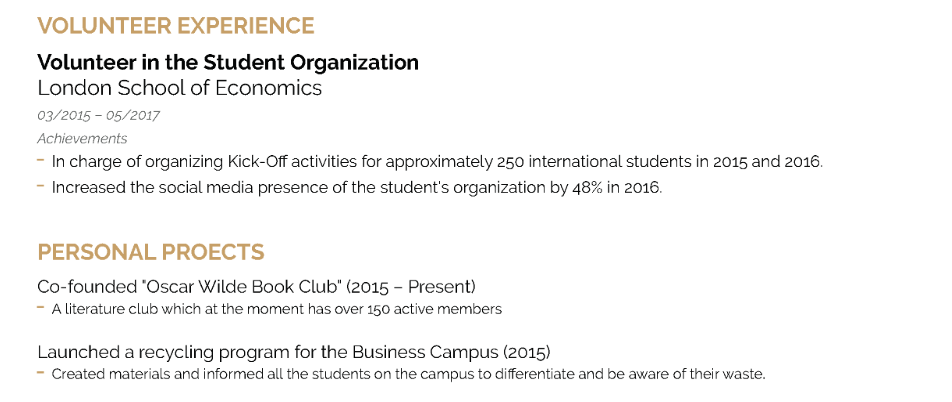 Best Skills to Mention on a Student Resume 
Another must-have section for your college resume is the Skills section.
Here, you want to mention your expertise and why you're the perfect candidate for the job.
How do you do that?
Let's take a look.
There are 2 types of skills you can mention:
Soft Skills (Personal Skills): These are a mix of social, communication, and other personal traits. For example, leadership, critical thinking, time-management, so on.
Hard Skills (Measurable Abilities): These are your measurable abilities. So, anything from baking to complex machinery skills.
A good resume should aim for a mix of both, soft and hard skills.
And if written correctly, the skill section can look something like this: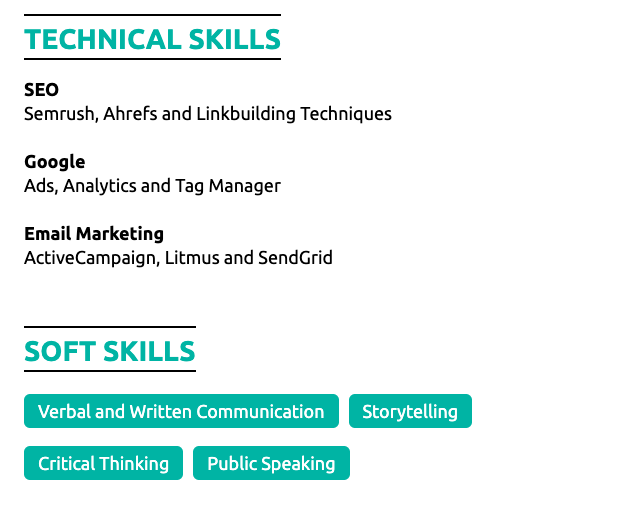 Now, when listing skills on your resume, here are a few essential tips to keep in mind:
List hard skills with experience levels. For each skill you list, you can mention your proficiency at it as well (i.e. from beginner to expert).
Keep it relevant and tailored to the job. You might have some awesome and rare skills, but they're not always going to be useful. You wouldn't talk about your accounting skills in a marketing job, right?
Include some Universal skills. There are skills that are bound to be useful pretty much anywhere. These are both soft skills (communication, teamwork, etc.) and hard skills (Photoshop, Powerpoint, writing, etc.). Whatever job you're applying to, these skills will probably come in handy.
And for a student resume, here are a few of some of the top skills almost every single employer will value:
Verbal and Written Communication.
Teamwork.
Adaptability
Punctuality.
Organization.
Flexibility.
Problem-solving abilities.
Motivation.
Patience.
Persuasion.
Time-management.
Now, you might be wondering - but isn't just about everyone 'communicative' and 'flexible'?
And you'd be right!
Mentioning buzzword skills only for the sake of sounding smart will get you nowhere.
To really show that you do have these skills, you want to back them up with the rest of your resume.
For example, if you say you have "critical thinking" as a skill, you could have a work experience section that emphasizes that.
In other words: show, don't tell.
Now, if you have some space left in your student resume, here are some other 'nice-to-have' optional sections you could mention.
5 Other Awesome Sections to Include in a Student Resume
The sections we've covered so far are essential for any student resume.
They're going to be your bread-and-butter. Get those sections right, and you'll land any job you apply to.
But consider the following situation:
The HR manager has to make a decision between 2 near-identical student resumes, with very similar work experience and backgrounds.
Even if the following sections might not be relevant at first glance, they might end up being the deciding factor between you getting the job or not.
You should only ever mention the following sections in your student resume - IF you have the space for them.
Hobbies and interests
Why would I want to include my hobbies in my resume, you might ask? 
Sure, it's not going to be the section that gets you hired.
It will, however, give the recruiter some insight on what you're like as a person, and what are your interests.
When the hiring manager is faced with 2 near-identical resumes from 2 equally-qualified candidates, the deciding factor might come down to your personality and interests.
Languages
This one's pretty simple.
Are you bilingual? Maybe even trilingual?
You should ALWAYS mention that in your resume!
Most companies are pretty international nowadays. And even if the position you're applying for doesn't need any specific language skills, it can still come in handy at some point.
To list languages in your resume, simply write them down and assign them the appropriate level:
Native.
Fluent.
Proficient.
Intermediate.
Basic.
It goes without saying that you should never lie about your language skills.
You never know when the interviewer might turn out to be fluent in the language.
Awards and Certifications
Do you have a piece of paper with your name on it that says why you're so smart and qualified?
It could be an award from a competition, or an online certificate.
Whichever the case, as long as it's relevant to your job - you can include it in your resume to further back up your expertise.
Publications
Are you a freelance writer? Or worked with your university's student paper?
You can include any relevant works you published (online, academic journal, etc.) with an URL in a publications section.
Extracurricular activities
Still have some space on your resume and an activity or two that you didn't get to mention until now?
Extracurricular activities are always a great addition.
Whether they're related to the job or not, they'll still show one thing:
You're hard-working and committed.
Here's what that might look like on a resume:
Extracurricular Activities:

Public Speaking Club

Founder and President

09/2018 - 09/2019
Founded club to help fellow students improve at public speaking and promote discussion-based events.
Organized 5+ public speaking lectures.
Brought in professors from the university and organized 2 speaking workshops.
You get the point.
3 Job-Winning College Student Resume Examples
Looking for more resume inspiration?
Check out the 3 different student resumes below to see what a job-winning resume might look like.
College Resume Example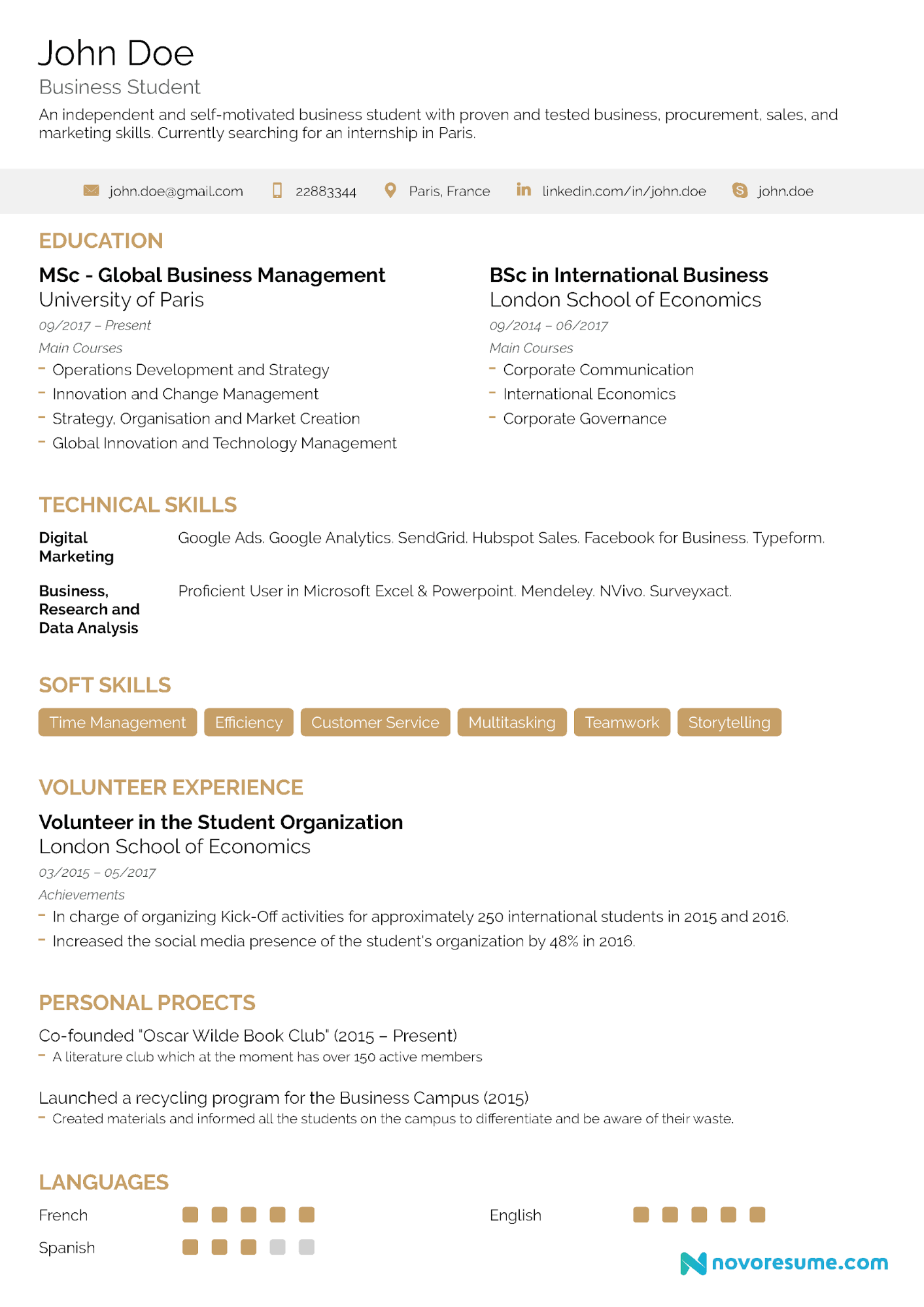 M.A. Student Resume Example
High School Resume Example
Key Takeaways
And there you go.
That's how you create a powerful student resume from scratch!
Now, let's quickly summarize everything we've learned so far:
Don't have much work experience? No worries - recruiters don't look for any in entry-level candidates.
Want to stand out without work experience? Focus on one of the following instead: extracurricular activities, internships, projects, and volunteering experience.
Need some inspiration? Check out the student resume examples we mentioned above!
Need some more guidance on everything job-search? Check out our career blog for the latest industry-leading advice and more actionable guides.
Recommended reading: