Writing an impressive resume as a student with no work experience can be a challenging task, often resulting in a generic document that fails to capture your full potential. 
This challenge intensifies in the face of a sea of applicants vying for the same role as you, making it all the more critical to stand out. 
Fortunately, we're here to solve this problem! 
This article presents a selection of impactful student resume templates and examples that will help transform your raw skills and academic accomplishments into an impressive, attention-grabbing resume. 
Here's what we'll cover: 
12 Student Resume Templates
3 Student Resume Examples
5 Other Professional Resources for Students
Let's dive in!
12 Student Resume Templates
#1. Creative Resume Template
The Creative resume template offers a visually appealing and unique design that can greatly benefit students. 
With a modern and innovative layout that leverages eye-catching colors, this template allows students to showcase their skills, experiences, and achievements all on one page. 
The template's artistic element can help you stand out from the crowd and make a memorable impression on potential employers by highlighting your creativity, attention to detail, and ability to think outside the box, all of which are valuable attributes in today's competitive job market.
#2. Basic Resume Template
This resume template comes with a straightforward and clean design that offers numerous benefits to students. 
For starters, it provides a professional and well-organized structure that lets you present your skills, education, and experiences in a concise and effective manner. Not to mention, by positioning the skills section at the top of the resume, this template emphasizes your skills over your work experience (which is something you're likely lacking).
This template can help any student, regardless of their standing, create a professional-looking resume that showcases their abilities and increases their chances of securing interviews and job opportunities.
#3. Combined Resume Template
Just like the name implies, this template is a perfect blend of two resume formats, namely the functional and the reverse-chronological format. 
This Combined template can arm you with a versatile and effective way to present your skills and professional experiences, as well as any relevant optional sections like certifications and personal projects. 
In a nutshell, the Combined template gives you the flexibility to leverage both the popularity of the chronological format and the impact you can make by emphasizing your skills and abilities. 
So, if you're not sure which resume format works best for you or if you're on the fence about a particular template, this stylish and impactful design might just be the choice for you. 
#4. Minimalist Resume Template
Novorésumé's Minimalist resume template offers a sleek and simple design that comes highly recommended for students. 
True to its name, this template aims to highlight only essential elements through clean aesthetics. Specifically, it lets students present their strong points and most noteworthy achievements concisely, eliminating unnecessary clutter. 
With a stylish color palette of pink and gray and a design that puts skills and work experience side by side, there's no way you can go wrong picking this student resume template. 
#5. Traditional Resume Template
This template's classic and time-tested design is guaranteed to work wonders for students looking to work in all fields, but especially those aiming for more traditional industries like banking or finance. 
Following a structured design that highlights all key resume sections, such as the resume objective, education, work experience, and skills sections, this template lets you include all your relevant information without your resume spilling over to page two. 
#6. General Resume Template
The General resume template is meant to offer you a versatile and adaptable format to showcase your qualifications, including your awards, your foreign language skills, your education, and much more. 
The header's blue color is meant to grab recruiters' attention to two of the most important resume sections–the contact information and the resume summary sections. 
Once you have their attention, you can wow them with other relevant sections such as your skills, work experience, and anything else you deem important. 
Easily customizable and practical to skim through, this resume template can make your application look good even if you don't put too much effort into it. 
#7. Modern Resume Template
The Modern resume template is a great choice for students who want their resume to look sleek and stylish, and yet professional. 
By incorporating modern elements like horizontal lines and bold blue color, this template is a great choice for practically every field you apply to. 
By using the Modern template, students can present themselves as forward-thinking and professional candidates, increasing their chances of standing out from the competition.
#8. IT Resume Template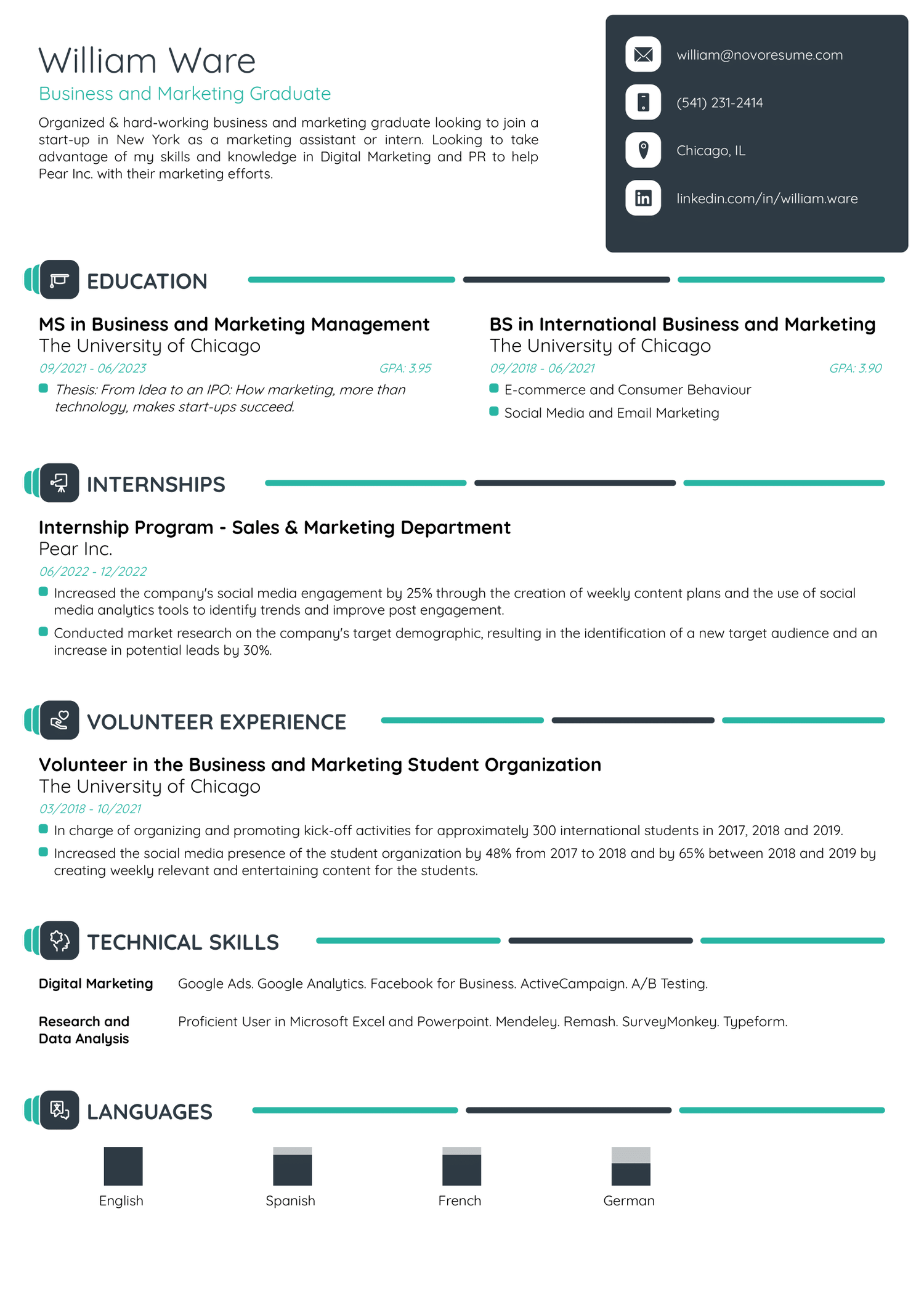 If getting into IT is your dream, then this resume template is for you! 
The team at Novorésumé specifically designed the IT resume template to cater to the needs of students in the field. Using a clean and modern layout, this template offers a comprehensive structure that highlights your relevant technical skills, certifications, and education history. 
And, if you have any professional experience in IT, even if it's through freelance work, internships, or personal projects, this template can surely help you highlight it through the reverse-chronological format - a favorite among recruiters.
#9. Simple Resume Template
Sometimes, a simple resume template can be just the way to let your personality and achievements shine through. 
This is exactly what the Simple resume template does for students. 
With a straightforward and reader-friendly structure that strays away from extravagant design elements and flashy colors, this template aims to let your achievements do the talking. 
So, if your professional journey is already rich in accomplishments or if you're one of those people who think simplicity is always the right choice, then you just found your match. 
#10. Functional Resume Template
Just like the format it's named after, the Functional resume template lets you highlight your skills and qualifications upfront, which is perfect if you don't have enough work experience to list.
What makes this template even more impactful is the minty color that grabs recruiters' attention, the perfectly aligned sections, and the way it leverages symbols to show your proficiency in say, foreign languages or technical skills. 
#11. Skill-Based Resume Template
The Skill-Based resume template does just what the name implies - it provides students with a valuable format that emphasizes their key skills and competencies. 
This template allows students to highlight their relevant abilities and qualifications, regardless of their work experience. By organizing their resume based on skills rather than professional achievements, students can effectively showcase their strengths and demonstrate their suitability for a particular role. 
This resume template lets you focus on your most marketable skills, making it easier for potential employers to quickly identify your strengths and match them with job requirements.
#12. College Resume Template
Are you a college student looking to land your first gig? Then the College resume template is just what you need. 
Specifically designed to cater to the unique needs of college students, this template offers a comprehensive structure that lets you highlight your academic achievements, extracurricular activities, internships, and relevant coursework.
The College resume template lets you effectively showcase your education, skills, and experiences in a concise manner and contemporary style. The resume's design is tailored to the specific needs of college students, increasing your chances of impressing potential employers and securing your next entry-level position!
3 Student Resume Examples
#1. High-School Student Resume
#2. College Freshman Resume
#3. Internship Resume 
5 Other Professional Resources for Students
Picking the right template for your resume is just a small first step toward landing your first gig. 
There are several other things you'll need to do during your job hunt, such as networking with the right people, applying for the right positions for you, and continuously honing your skills. 
Here are some resources that are guaranteed to come in handy: 
Conclusion 
By now, you should have realized how important it is to find the right student resume template if you want to land your dream job. 
We hope our list meets your preferences and can help you on your career path as effectively as possible! 
For more resources and career advice, make sure to visit our blog!