A receptionist does much more than welcome, greet, and direct a company's guests or clients. 
The job includes maintaining the security and telecommunications systems, providing information to customers by answering or redirecting their inquiries, and offering administrative support within the company, among others. 
As such, it's not surprising at all if you're stuck trying to put all that effectively on your receptionist resume. 
Fortunately, though, with the right guidance, writing an impactful receptionist resume can be easy, and we're here to help!
Read our article to learn all you need to know about writing a receptionist resume! Here's exactly what we'll cover: 
Receptionist Resume Example (Better Than 9 Out of 10 Examples)

8-Step Guide to Write Your Receptionist Resume

20+ In-Demand Skills to Put on Your Receptionist Resume
So let's get to it! 
Receptionist Resume Example (to Inspire You)
Not sure where to start with your resume? Reviewing a receptionist resume example is a good start!
The resume example above does everything right, including: 
Follows the chronological format. As the most popular format among recruiters worldwide, the chronological resume format is the way to go.
Has a memorable resume profile. To show the recruiter they're relevant as an applicant, the candidate has written a captivating resume summary. 
Includes professional contact details. In addition to the must-have contact details, the receptionist resume example above also lists the applicant's LinkedIn and Skype handles.
Lists quantifiable achievements. The candidate has built a work experience section that focuses on achievements to stand out from other applicants. 
Has a short education section. With plenty of work experience to show for, the receptionist resume example keeps their education section short. 
Includes relevant skills. The candidate doesn't list every skill under the sun, but only the ones that are relevant to the position. 
Uses optional resume sections the right way. By adding their certificates and languages, the candidate has even better chances at standing out from the competition.
Is based on a well-designed resume template. To avoid the hassle of building their resume from scratch, the receptionist resume example above was built using a plug-and-play template.   
8-Step Guide to Write Your Receptionist Resume
Inspired by the receptionist resume example above?
Now it's time to write yours! Below, we'll walk you through the 8 essential steps for creating an effective receptionist resume, starting with:
#1. Choose the Right Format and Layout
When it comes to resumes, the structure is everything. 
You can be an amazing professional and you still won't stand much chance if:
Your resume sections are all out of order.
Your resume is very hard to follow because of a messy structure.
The resume looks unprofessional because you picked the wrong font. 
So, before you can start filling out the contents of your receptionist resume, you've got to first make sure its format and layout are just right.
When it comes to your resume format, the choice is quite easy. 
Out of the three resume formats (chronological, functional (also known as skills-based), and combination) you should go for the chronological resume format. It's the most popular among recruiters everywhere in the world and successfully highlights your skills and achievements by putting your most recent work experience first. 
Here's what it looks like: 
Now, when it comes to the layout, you'll have to keep a few more things in mind:
Keep your resume short. Unless you have 10+ years of experience, a 1-page resume is your best bet that recruiters will go through your entire resume. After all, they receive hundreds of applications daily—they don't have time to read your resume if it's the same length as a short novella. 
Picking the right font size and style. Go for 11-12 pt font size for the body of your text and 13-14 pts for the section headers. As for the style, we recommend using a font that's casual but professional, such as Ubuntu or Roboto. 
Using section headers. Section headers are a good way to clearly separate your resume's sections. 
Saving your resume as a PDF file. Unless otherwise instructed in the job description, save your resume as a PDF. That way, you can be sure it will open as you intended it despite the device or OS that opens it. 
Or Skip Formatting and Layout Altogether By Using a Resume Template!
Imagine this:
You spend hours and hours tweaking your resume layout, only for it to look like a generic, black-and-white resume.
Not a good feeling, right?
Want to skip ahead of all the formatting hassle and jump right into filling in your contents? AND come out with a visually-appealing, short-n-snappy resume, all at the same time?
All you have to do is pick one of Novorésumé's free, plug-and-play templates! 
Our resume templates were made in collaboration with professional recruiters, which means they are easy to read and scan (and they're ATS-friendly to boot!). 
And the best part? The templates look absolutely gorgeous (especially when compared to a standard black-and-white resume):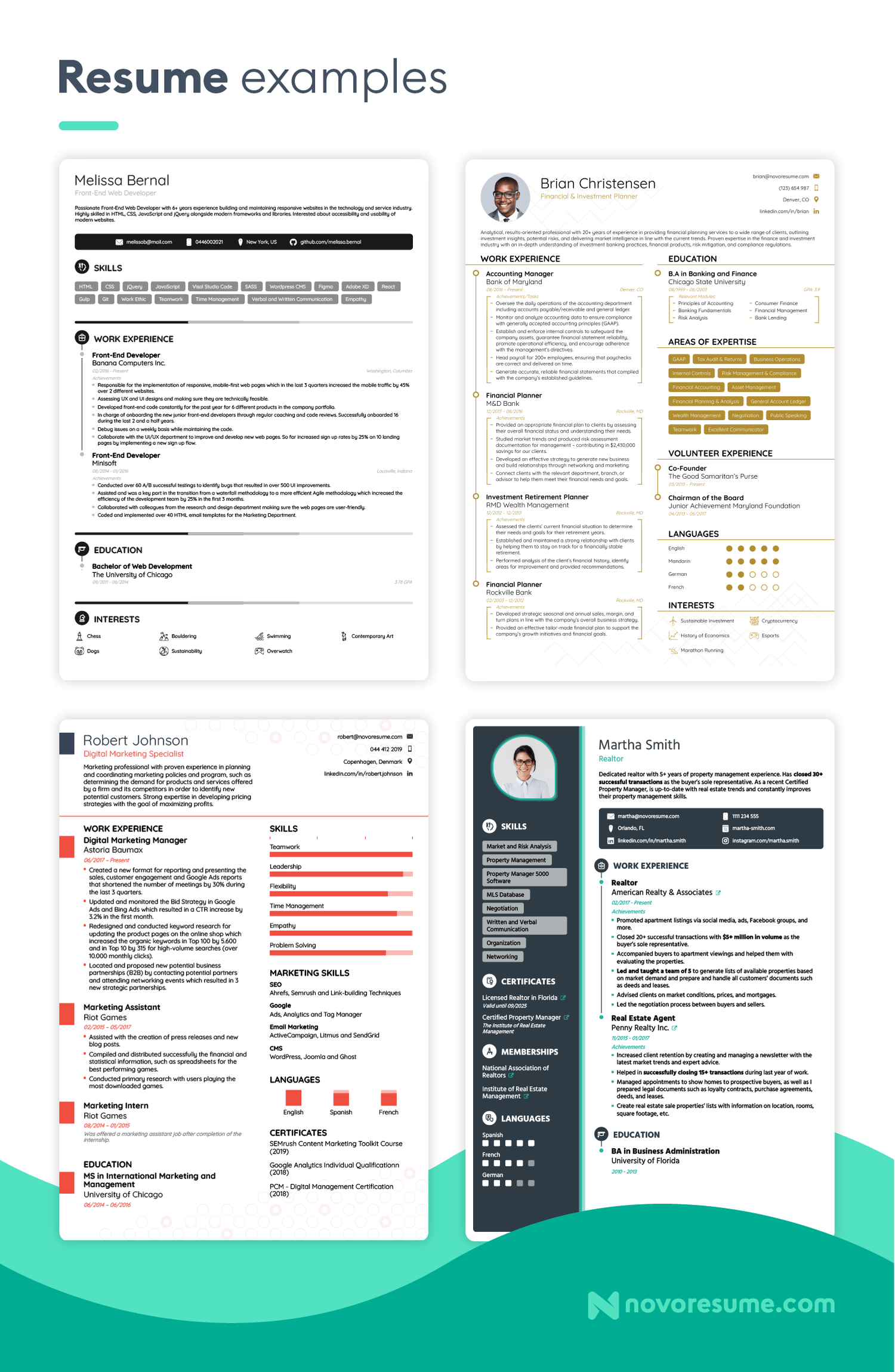 #2. Add More Than Your Traditional Contact Details 
The contact information section is the most straightforward part of writing a resume. 
Basically, all you have to do is list the following details:
Full name.
Professional title. 
Phone number.
Location (city and state/country).
Here's how all that looks like on a receptionist resume: 
Examples:

Pam Beesly

Receptionist

123-123-333

Scranton, PA
If you want to add some flavor to this section and you're active on LinkedIn, you can include your profile's URL link too. 
#3. Write a Compelling Resume Summary Summary/Objective
Put simply, your resume profile is a summary of you as a professional. 
The 2-3 sentence short paragraph goes at the top of your resume and aims to tell recruiters just enough to convince them to deep-dive into the rest of your resume.
Depending on your work experience level, you can write a resume profile as:
A resume summary. If you are experienced in the field use a resume summary to sum up your title and years of experience, as well as your top skills and achievements.
A resume objective. If you don't have a lot to show for in terms of work experience, then you should go for a resume objective. To ace, it, mention any degree names or experience related to the field, the skills that you can offer the company, and your interest in working there. 
Here's what a receptionist resume summary looks like:
Receptionist Resume Summary

Detail-oriented receptionist with 4 years of experience in customer service. Efficient in performing the administrative and front-desk tasks of large-scale offices. Fluent in Spanish and proficient in MS Office Suite. 
And here's a receptionist resume objective:
Receptionist Resume Objective

Motivated communications graduate looking to apply their people and organizational skills as a receptionist at Company Z. Worked as Resident Assistant for 3 years and has hands-on experience on front desk duties, helping students solve problems, and dealing with administrational tasks.
#4. Make Your Work Experience Count 
Consider your work experience section as the backbone of your receptionist resume - it's what recruiters will be checking to see whether you've got what it takes to excel at the job.  
To make this section count, first, make sure to format it the right way. Here's what that involves: 
Start with your current/most recent position and go backward in time. Keep your work entries relevant - the paper delivery job from your teens won't help land you a receptionist job. 
Begin each work entry with your professional title. Underneath, add the company's name and location, the period you worked there, and 3-5 of achievements and responsibilities in bullet points. 
List fewer bullet points (1-2 for each work entry) as you go back in time. Your job from 10 years ago doesn't need to be as comprehensively described as your last one.
After you've handled the formatting, you've got to make sure your professional experience shines through brighter than other candidates'. 
As hard as it may sound, we have some very effective tips to make that happen, including: 
Focus on achievements over responsibilities whenever it's possible. After all, recruiters know what the responsibilities of a receptionist are pretty well - it's your achievements that can really help you stand out. 
Quantify your achievements whenever you can. For example, instead of saying "handled incoming and outgoing calls effectively," say "handled 100+ incoming and outgoing calls on a daily basis."
You can use the following formula to quantify your achievements: "accomplished X as measured by Y by doing Z." 
Here's how a well-written work achievement would look like in a receptionist resume:
Receptionist Resume Achievements
Consulted regarding a redesign of the office scheduling system, increasing accuracy by 38%.
Achieved 95% customer satisfaction score based on feedback forms.
Handled successfully 100+ phone calls daily with no complaints during the last 2 years.
And here's a less convincing achievement:
Answered questions.
Provided good customer service.
Made phone calls.
The first example is achievement-oriented and the recruiter reading it knows how, exactly, you excelled at your last role.
The second example, though, is not as much. The recruiter knows that you worked as a receptionist… and that's about it. They have no idea if you excelled at the role or not.
If you do have to list responsibilities and tasks on your Receptionist resume, make sure you're using dynamic action words and strong verbs!
#5. Include Your Education 
The next step in creating your receptionist resume is to list your educational background.
Start by following this format:
Add your latest and highest degree first. 
Start off with the degree name, then the institution's name, and the dates attended. 
Don't add your high-school education if you hold a Bachelor's Degree or higher. 
Here's how the education section should look like in a receptionist resume:
Education Section Example

BA in Communication 

Penn State University, PA

2010-2014
Now, if you don't have any work experience at all, you can use your educational history to help you stand out.
In such a case, you can make this section more elaborate by mentioning:
Academic merits and achievements
Relevant coursework taken
Extracurricular activities  
For example:

BA in World Literature

Penn State University, PA

2010-2014
Graduated Summa Cum Laude
Graduated first of the class in Communications
Resident Advisor for 3 years
20+ Receptionist Soft and Hard Skills to Put on a Receptionist Resume
Receptionist Soft Skills
Verbal and written communication
Listening
Professionalism
Customer focus
Organization and planning
Handling pressure and tolerating stress
Attention to detail
Initiative
Reliability
Multitasking
Efficiency
Conflict resolution
Problem-solving
Prioritizing
Time Management
Receptionist Hard Skills
Microsoft Office (Word, Excel, Outlook)
Administrative skills
Data entry
Supply management
Typing skills (include WPM)
Information management software
Use of office equipment (fax machines, copiers, etc)
Multi-line phone systems
#7. 5 Additional Sections to Take Advantage Of
At this stage, if your resume is already a full one-pager, you can just skip this section altogether.
If, on the other hand, you've got some space left (e.g. if you don't have a lot of work experience), you can make use of these extra sections to give your receptionist resume an edge:
Awards and certifications. Are you certified in office management? Do you have any awards for excellent performance in any of your previous roles? These are definitely things you should include in your receptionist resume. 
Languages. Whatever your position might be, knowing an extra language or two can always come in handy.
Volunteer experience. Volunteering can be a great way to show you also care about giving back to the community. If you're a recent graduate, volunteering experience can also show employers that you're familiar with hard work.
Internships. Got any past internship experience? Make sure to include that in your resume, along with your main tasks and achievements there. 
Hobbies and interests. Show the recruiter who you are outside of work. Who knows, maybe it'll help you establish rapport with your interviewer!
The thing about extra sections is that they work on two levels: if you're lacking work experience, they can definitely help you land an entry-level job, whereas if you're experienced in the field, they can set you apart from other applicants with similar work experience and skills. 
Here' an example of how extra sections should look in a receptionist resume:
Examples of Extra Sections
Certifications
Microsoft Office Specialist - Issued by Microsoft
Certified Business Officer - Issued by the Management and Strategy Institute
Volunteer Experience
Front Desk Assistant 
Scranton Community Center
06/2010 - 10/2012
Helped staff with daily clerical tasks and activities
Got hands-on experience doing administrational work
Languages
French (Fluent)
German (Intermediate)
#8. Don't Forget to Include a Cover Letter
Including a cover letter with your resume is an inseparable part of sending a job application.
As such, it's safe to assume that it should be just as good as your receptionist resume. 
Keep in mind, though, that a cover letter shouldn't just rephrase whatever you mentioned in your resume.
Rather, you should use it to:
Summarize your most important skills, achievements, or experiences.
Expand on any information you couldn't talk about in detail in your receptionist resume.
Mention what you know about the organization you're applying for (and why you want to work there).
Here are our tips on creating a compelling receptionist cover letter:
Tailor your cover letter to the specific job position you're applying for. Instead of using a generic cover letter introduction, start your cover letter by introducing yourself and mentioning exactly why you want to work for that company.
Use the body of your cover letter to talk about your skills, achievements, and qualifications in more detail. 
Write a strong cover letter ending by including a strong call to action. 
Make sure that your cover letter looks as compelling as your resume by using one of our cover letter templates. 
Learn more about how to write a compelling cover letter by checking out our cover letter tips.
We hope you are feeling more confident about creating your receptionist resume and we are sure you will get hired in no time!
Key Takeaways 
Follow the steps we outlined above, and you'll have yourself a job-winning receptionist resume in no time!
Before you leave to work on your resume, though, let's recap the key learning points we covered above:
Use a resume summary or objective to summarize your experiences and show the recruiter that you're relevant for the role.
Mention achievements over responsibilities when possible. This helps show the recruiter how you excelled in your previous role.
Quantify your work experiences by using the XYZ formula.
Use some of the optional resume sections to help you stand out. This includes languages, hobbies, extracurricular activities, and more.