Want to get hired in a modern, trendy workplace? You'll need a modern resume template that's going to help you stand out from the rest of the candidates!
Applying for a job with a visually attractive and modern resume can be a big plus -  showing that you're imaginative and that you go the extra mile can really leave a good first impression on the employer.
However, building a modern resume is easier said than done, especially since not all of us have a streak for design. 
For your convenience, we've compiled a list of the best modern resume templates out there. 
You can easily download them, fill up the contents, and have an awesome modern resume ready in no time!  
So, without further ado, here is our list of the top modern resume templates:
19+ Modern Resume Templates [You Can Download Now]
#1. Professional Modern Resume
Price: Free
Format: Online Editor/ PDF
This professional modern resume template has proved to be very effective and well received by many recruiters and helped many people to land their desired positions in various companies.
Get the template here.
#2. Professional, Yet Creative Modern Resume Template
Price: Free
Format: Online Editor/PDF
Want to give your modern resume that creative flair? Well, this template is the right one for the job!
This template follows the reverse-chronological format, which is recruiters' favorite worldwide. Moreover, it has well-organized sections, starting with the contact information and resume summary, delivering the most important information about you straight away. 
Get the template here.
#3. Functional Modern Resume Template
Price: Free
Format: Online Editor/PDF
Showcase and emphasize your work experience and skills by using this functional resume template with a great design and colors.
You can add your picture at the top of the page, list organizations where you're a member, and mention your awards and honors - all in one, well-structured page. 
Get the template here.
#4. Minimalist and Easy to Follow Resume
Price: Included in the Premium account starting at $19.99
Format: Online Editor/ PDF
This simple and modern resume template is perfect for candidates applying in conservative industries that focus on content rather than design, but still want to stand out with a more unique design.
Get the template here.
#5. Straightforward Modern Resume Template
Price: Included in the Premium account starting at $19.99
Format: Online Editor/ PDF
This straightforward resume template emphasizes every resume section equally and provides enough space for all the information you might need to include.
Your name and resume summary are the first things a recruiter will notice upon laying eyes on that unique header, so make sure to write one that counts.
Get the template here.
#6. Mixed Modern Resume Template
Price: Included in the Premium account starting at $19.99
Format: Online Editor/ PDF
This resume template is a mix of functional and reverse-chronological resumes and emphasizes both your experience and skill-set equally and with a modern approach.
Get the template here.
#7. General Modern Resume Template For Any Profession
Price: Included in the Premium account starting at $19.99
Format: Online Editor/ PDF
This general modern resume template can be customized to suit your personality and skills. This template can effectively be used to apply to jobs in most industries. 
Get the template here. 
#8. 
Infographic Modern Resume Template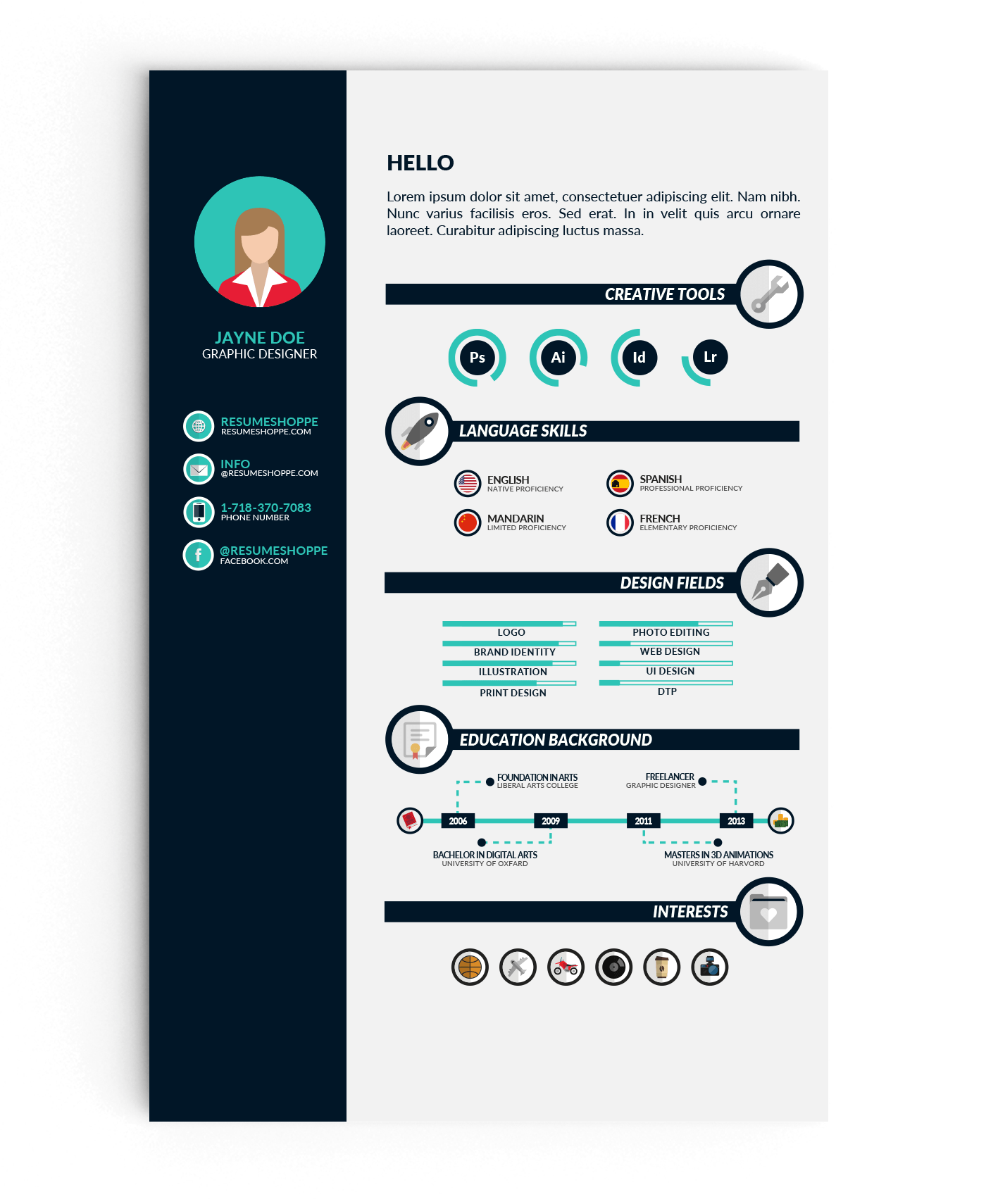 Price: Free
Format: Word
Use this infographic-oriented modern resume template if you have little or no work experience, or if you're changing fields. 
This modern resume template emphasizes your skills with icons and infographics to fill in the gaps. 
Get the template here.
#9. Experience-Oriented Resume Template
#10. Flashy and Minimal Modern Resume Template
Price: Free
Format: PDF/PNG/JPG
The rich color pallet, timeline-based sections, and fun icons make this template an awesome choice for experienced professionals that are courageous enough to show it through a creative approach. 
Even though this modern resume template has no space for a resume summary or your skills, its structure, and eye-catching design make it worthwhile your time (especially if you have professional experience and achievements that speak for themselves!). 
Get the template here.
Other Types of Resume Templates
None of the resume templates above catch your eye? Check out some of our other compilation articles:
6 Reasons to Choose a Modern Resume Template
Using a modern resume template is going to put you miles ahead of someone with the age-old black-and-white traditional format. Here are the top 8 reasons why modern templates are so effective these days:
Eye-Catching Design. Unlike the traditional black-and-white resumes, modern templates are created with the intent of catching the recruiter's attention.
Easy to Follow Layout. Modern templates are structured in such a way that the most important information goes on top of the resume.
ATS-Friendly Format. Modern resume templates are built with ATS in mind. This means they're unlikely to get rejected by applicant tracking systems.
Trendy Looks. The hiring manager will know that you're the type of candidate who keeps up with new trends.
Resume Builder Option. Some modern resume templates, like the ones by Novovresume, are offered via a resume builder, a type of software that makes the resume creation process much faster and easier.
Preferred by Top Companies. Want to work in a cutting-edge company like Tesla, Apple, or Google? You'll need a resume that'll catch their attention.
Features of a Modern Resume Template
Unlike traditional resumes, modern designs are more personalized, allowing candidates to express their creativity. 
Here are some of the features that immediately define a modern resume template:
#1. Design
One thing all modern resume templates have in common is that they don't hold back when it comes to design. 
Some are very minimalistic, with subtle use of colors and fonts that make them look clean and perfectly structured, while others use bold colors, shapes, and visuals to make an impression. 
No matter your personal preferences, you can always tell a modern resume template from its absolutely eye-catching design. 
#2. Colors 
Modern resume templates typically use matching color palettes to highlight different resume sections, create structure, or simply add more flair to your resume.  
Depending on your field, you can opt for a modern resume template with bright and flashy colors or for one that takes advantage of sophisticated pastels and gradients.
#3. Fonts 
Fonts are a big part of the design, so they are obviously an important feature when it comes to modern resume templates. 
Forget your mainstream Times New Roman and Roboto fonts – some of the most eye-catching modern resume templates on our list above leverage the power of alternative fonts and creative placement to stand out from the crowd. 
#4. White Spaces 
Due to their smart design, modern resume templates often feature plenty of white space around and in between resume sections. 
This makes them look well-structured, clean, and very reader-friendly.
#5. Creative Section Headings 
Instead of using slightly bigger font sizes to separate section headings, modern resume templates usually feature creative section headings that include icons, fonts, and alternative placement. 
Section headings are essential if you want a well-organized and reader-friendly resume, which is why we love this modern resume feature.
#6. Easy to read
The best modern resume templates will be easy to read due to their great design and effective use of space and colors. 
By maintaining the same style, fonts, and structure throughout the resume, recruiters can find and scan information without getting lost in a sea of information. 
Key Takeaways 
And that sums up our listicle of the top modern resume templates out there! Before you go, though, here's a quick recap of what we've covered in this article:
Using a modern resume template makes you stand out from the rest of the competition.
Modern resume templates use creative layout, design, and other elements to instantly catch the recruiter's eye.
A resume template is easy to modify. Instead of spending hours creating a CV on your own, you can simply edit an existing template.