You know precisely what it takes to turn a house into a home.
You're ready to put your sense of aesthetics and design know-how to good use. There's just one problem…
Your resume is the one project you're struggling with.
Whether it's been a while since you updated your resume or you're writing one for the first time, creating an impressive interior design resume can be tough.
Luckily, you have no reason to worry.
This article is here to help you transform your interior designer resume into a beautiful snapshot of your career so far.
Here's what we're going to cover:
What a Great Interior Designer Resume Example Looks Like
9 Steps to Write the Perfect Interior Designer Resume
What to Include in Your Interior Designer Resume
…and that's just the beginning!
So let's dive right in.
Interior Designer Resume Example
That's a great example of an interior designer resume.
Let's break down what it does right:
Reverse-chronological resume format. This format highlights the candidate's most recent work experience first and it's the hiring manager's favorite format worldwide.
Relevant contact details. This interior designer's resume keeps this section strictly professional by only including their full name, professional email address, phone number, location, and links to their portfolio and relevant social media.
Captivating resume summary. With a resume summary to highlight the candidate's top achievements and skills, this candidate is likely to grab the hiring manager's attention from the get-go.
Emphasis on accomplishments. To make a stronger impression, the interior designer resume example above lists achievements over responsibilities and backs them up with numbers.
Bullet points. Instead of using blocks of text, the candidate uses bullet points to make their resume more reader-friendly.
Tailored skills. This interior designer resume focuses on the most in-demand hard skills for their industry, as well as lists soft skills tailored to the job advertisement.
Short education section. Unless you're a recent graduate, keep your education section brief and to the point. Hiring managers are more interested in your work experience, portfolio, and skills, which is why this interior designer resume example keeps this section short and tidy. 
Optional sections. The interior designer resume example leverages optional sections like foreign languages and certifications to stand out from candidates with similar work experience and skills.
9 Steps for the Perfect Resume Example
You now know the basic principles of a great interior designer resume and what that looks like.
Now, it's time to write one yourself!
Check out how to write each section of your interior designer resume below:
#1. Pick the Best Format
Any project needs a floor plan, and your interior designer resume is no different.
You can pick from three different resume formats to get started:
For 99% of cases, we recommend you choose the reverse-chronological format for your interior designer resume.
This format lists your most recent work experience, responsibilities, and achievements first, which is exactly what the hiring manager wants to see.
Not to mention, it's the most popular format among hiring managers worldwide, so you can't go wrong with it! 
Here's a look at the reverse-chronological resume format:
Now that you have your resume format down, it's time to perfect your resume layout.
Here are some tips and tricks to make your interior designer resume look professional, tidy, and reader-friendly:
Adjust the margins. The margins on your resume should be one inch on all sides. Anything bigger or smaller than that could make your resume look too empty or too cluttered.
Set the line spacing. The line spacing of your resume's text can determine if it looks neat or cluttered. Use the standard line spacing, which is 1.0 between text and 1.15 after subheadings and section titles.
Choose a stylish font. The font you choose also influences how reader-friendly your resume is, so you want to be careful here. Go for a font that's easy to read and professional, but not overused. (Yes, that means that Comic Sans and Times New Roman are questionable choices.)
Stick to a single page. The perfect resume page is one length, so make sure yours doesn't spill over to page two. Exceptions to this rule only apply if you're a seasoned professional with tons of relevant work experience for the position.
Export to the correct format. Save and send your resume as a PDF file. That way you can be safe that your resume won't change regardless of what device or Operating System the hiring manager opens it on. Unless the employer specifically asks you to send your resume in a different file format, always send it in as a PDF.
Or Use a Resume Template Instead
You're no stranger to quality design but, like any project, a well-designed resume takes a lot of work.
You have to fix the entire layout, including tweaking the margins, and experimenting with different font styles and sizes, all while trying to keep everything from spilling onto page two.
What if you could skip all this hassle and go straight to filling out your resume's contents?
Then try any of our HR-approved, free resume templates.
Each template is designed in close collaboration with recruiters, which guarantees your interior designer resume will be ATS-friendly, professional, and brilliantly designed.
See for yourself how our resume templates compare to a regular text editor template: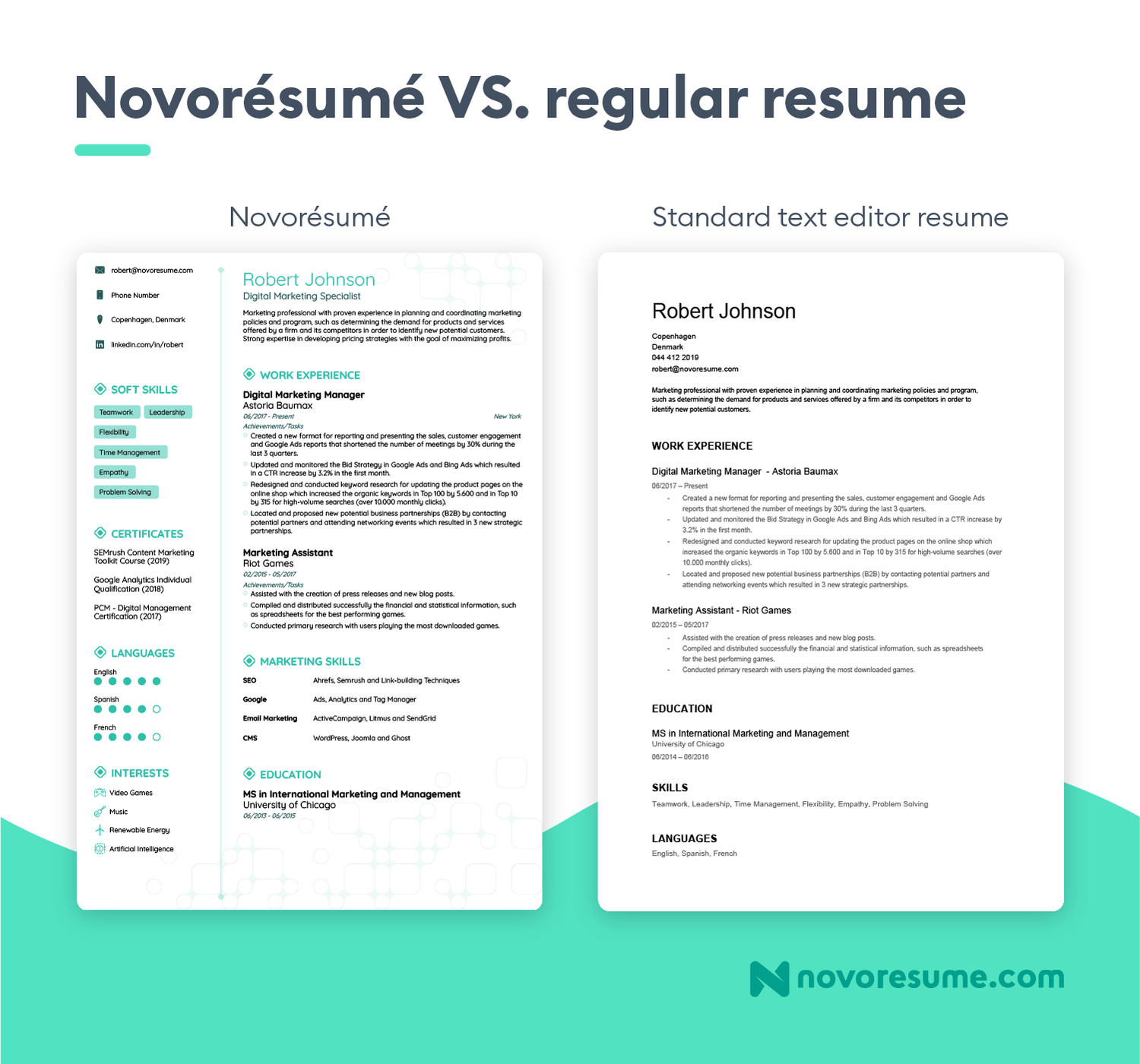 #2. Add Relevant Contact Information
The contact information section is the one section you can get out of the way fast and easily.
Here's what this section should include:
Full Name. (E.g. Nerida Mannon)
Professional Title. The title in your resume should match the name of the position you're applying for. (E.g. Interior Decorator)
Phone Number. If you're applying for a job abroad, always make sure you include the dialing code at the beginning of your phone number.
Email Address. Your email should be some variation of your first and last name. Avoid nicknames, jokes, or references to your favorite show. (e.g. mannon.nerida@gmail.com is good but neridathenerdofnarnia@hotmail.com is not.)
Portfolio Link. Be sure to include a link to your online portfolio. This can be a form of professional social media, like a Behance profile, or a personal website devoted to your interior design projects.
Location. Adding the name of your city and state or country is usually enough. If you're applying for a remote position or a job you're willing to relocate for, make sure to specify that somewhere in your resume.
Easy, right? 
The only thing you want to make sure is that your contact information is factually correct (i.e. no typos in your name and location or mistakes in your phone number). 
No employer wants to hire a candidate who can't properly spell or isn't attentive to details.
Here's an example of a spot-on contact information section:
Correct Example:

Robert O'Sullivan

Commercial Interior Designer

+353 20 114 4406 - robert.o.sull@gmail.com

ww.OSullivanSpaceDesigns.com

Limerick, Ireland
Incorrect Example:

Bobby O'Sullivan
Interior Designer Prodigy
020 114 4406 - thebasketbobber@gmail.com

The Emerald Isle
#3. Write an Impactful Resume Summary or Objective
As an interior designer, you want your clients to take one step into the space you've worked on and go "wow" right away.
Well, writing a resume is no different and a powerful resume summary or objective is just your chance to do that! 
Consider this three to four-sentence paragraph as a snapshot of the rest of your resume. 
It typically contains enough information to show what makes you stand out from other applicants and get the hiring manager to read the rest of your resume.
There are two ways you can go about this:
Resume summary. Seasoned interior designers can use the resume summary to list their years of professional experience, top skills, and best achievements.
Resume objective. If you're fresh into the field of interior design, you can choose to focus on your career goals and academic achievements instead of your work experience. A resume objective is the best choice for fresh graduates and career changers.
To help you understand the difference, let's look at some examples.
First, here's an interior designer's resume summary:
Interior Designer Resume Summary Example:
Sustainable design consultant with 4+ years of experience, looking for a place to thrive in Green Grid Renovations and create a new generation of nature-centric office spaces. Expertise in coordinating interior and architectural design projects from A&E approval to final delivery. Communicative, goal-oriented, and capable of handling multiple high-profile projects simultaneously. Proficient user of AutoCAD with experience in urban planning.
Off the bat, the hiring manager reading that resume summary knows this candidate's resume is worth dedicating more time than the usual 7 seconds they spend skimming through resumes.
Now here's a resume objective example:
Interior Designer Resume Objective Example:
Creative interior design graduate looking to join the team at Prairie Pine Designs. Ready to collaborate on innovative living space projects and shape environments that let people thrive. Experience in illustrating design concepts in Photoshop and rendering 3D models for client approval. Knowledgeable in the principles of design, architecture, and color theory.
As you can see, even if you're a college student with no experience, your resume objective can still be captivating and show you've got a lot to bring to the table.
#4. Prioritize Your Work Experience
The work experience section is the most important part of your resume.
It's the first thing a hiring manager will want to read after your header, and it can make or break your job application.
Here's what you need to do to format this section right:
Use a reverse-chronological order. You should always start by listing your latest work experience first and then work your way down to older roles. Just don't go too far back - your part-time gig as a tutor in high school isn't relevant.
Add the correct job title. Be factual with the role you had at your previous job. Don't oversell yourself or use an overly casual title (e.g. Kitchen and Bath Designer is a full and accurate title but Splash Space Stylist is not).
Include company details. Just add the name and location of the employer you worked for. If they're not a household name, you can add a very brief description just so the hiring manager has an idea of what the company does.
State the employment period. The mm/yyyy format is detailed enough. Make sure you use it throughout your whole resume.
Mention responsibilities and achievements. The gist of your work experience is how you describe your role in your previous jobs. Use bullet points to list your day-to-day task and notable achievements, with up to six bullet points for your latest roles, and fewer than four for older ones.
Those are just the basics of your interior designer resume's work experience section.
But if you really want to make your work experience pop, you have to go the extra mile.
To stand out from the crowd of interior designers vying for the same position, follow these tips:
Tailor the work experience to the job advertisement. Check the job description and understand exactly what the company is looking for. For instance, if the position is looking to hire someone who's experienced in Photoshop and understands color theory, you should focus on the professional achievements and responsibilities that reflect those skills, instead of more generic tasks. 
Emphasize achievements over daily tasks. The hiring manager already knows what your day-to-day tasks were at your previous job. It's the achievements on your resume that can show them what you're truly capable of and how you can benefit the company.
Back everything up with numbers. Give credibility to your achievements by backing them up with data and numbers. Add a timeframe, scale, and results wherever applicable.
Choose the right words. Instead of doing what everyone else does and writing that you were "responsible for" this or "managed" that, pick powerful action words to make your experiences stand out. (E.g. 'Spearhead 17+ innovative lighting projects and designed unique fixtures.' says more than 'Worked on innovative lighting projects.')
Let's see a great example of an interior designer's work experience section:
Interior Designer Work Experience Example:

Junior Interior Designer

ABC Home Design Company

03/2022 - Present
Researched and sourced 15+ vendors for FF&E according to client tastes and budget.
Organized 5+ years' worth of company projects into separate client portfolios and shortlisted photos of finished projects for the launch of interior design photo books.
Honed communication skills to build strong professional relationships with contractors which led to 10% discounts on future project partnerships.
Spearheaded interior design project for an innovative elementary school classroom while maintaining it under a budget of $26,000.
What if I Don't Have Work Experience?
If you're looking for your first interior design job, you might be worried about the fact you don't have any work experience to list on your resume.
But as important as work experience is, you can still show your strengths as an interior designer without it.
All you need to do is fill up that empty space with other sections that highlight your skills and passion for the field.
Here are some of the things you can mention:
Academic projects and achievements
Personal projects
For example, if you volunteered to redesign the interior of your local community center, you can mention that experience. 
So if you're just getting started in your career, here's an example of how you can  turn around your interior designer resume's work experience section:
Volunteering:

Interior Designer & Project Coordinator

Bridgerton Community Center

05/2020 - 10/2020
Volunteered to redesign the interior of the town community center, which was in need of renovation.
Consulted the local community and center employees to determine the scope of the work and available budget, which was less than $30,000.
Developed preliminary design using Photoshop within 1 week of the project's beginning.
Sourced vendors and negotiated pricing of materials throughout the 5-month duration of the project.
Oversaw selection and installation of FF&E, as well as final decorative details.
#5. Keep Your Education Section Brief
Interior designers do need a degree or some other qualifications to get started. 
That being said, it's not necessary to go into detail in your education section if you already have work experience.
The hiring manager is going to be a lot more interested in your work experience, portfolio, and skills. So, keep your education section short and sweet, and always start by listing your latest degree first.
Here's how you should list everything in your education section:
Degree Name. E.g. BFA in Interior Design, Minor in Landscaping
University Name. E.g. CalState University
Location (optional). E.g. Fresno, CA
Period Attended. Here, use the mm/yyyy format again to keep your resume uniform (e.g. 08/2019 - 05/2022)
That said, if you're a recent graduate, you might want to give more details on your education. For example, mentioning some classes you took or a project you worked on could back up your interior design know-how.
Here's an example of how that would like in your interior designer resume:
Interior Designer Resume Education Example:

BFA in Interior Design, Minor in Architectural History

Sorbonne University
Paris, France

09/2019 - 07/2023

Courses: Spatial Design Fundamentals, History of European Interiors, Textiles, and Materials in Design, Computer-Aided Design (CAD) for Interiors, Sustainable Living Spaces
Only mention your high school degree if it's the highest degree you've obtained so far.
#7. List the Right Skills
Next, you need to pay special attention to the Skills section of your interior designer resume.
Your skills show what you can offer to your future employer. Whether that's how well you communicate in a team or what software you're familiar with, your interior design skills should always be listed on your resume.
That being said, there's no need for you to list every single skill you have. On the contrary, what you need to do is tailor your skills for the specific job.
For example, if you're applying for a job as a home stager, you don't need to focus on your skills as a CAD specialist. Your familiarity with color theory and interior styling might be more relevant.
Follow these tips to write an A++ skills section:
Emphasize what the employer wants. Start by carefully analyzing the job description and highlighting any required skills Then add the ones that apply to you to your resume.
Stay updated on industry trends. The interior design industry has been experiencing consistent annual growth, and the tools and skills it requires have been expanding, too. Keep an eye out for the latest trends and don't let your skills get rusty.
List soft and hard skills separately. Always keep your soft skills separated from your hard skills. If they're not crowded in one place, the hiring manager can easily navigate to the exact set of skills they're looking for when they read your interior designer resume.
Now you know how to list your skills.
But what are the most popular interior designer skills out there?
Take a look at these 47 most in-demand soft and hard skills for interior designers to get inspired!
47 Most In-Demand Interior Designer Skills for 2023
15 Interior Designer Soft Skills
Communication
Creativity
Client management
Adaptability
Negotiation
Attention to detail
Time management
Cultural awareness
Networking
Stress management
32 Interior Designer Hard Skills
Computer-Aided Design (CAD)
3D Modeling
3ds Max
AutoCAD
V-Ray
Revit
Adobe Photoshop
Adobe InDesign
SketchUp
Spexx
Architectural drafting
Space planning
Interior architecture
Sketching
Technical drawing
Perspective rendering
Color theory
Textile and material knowledge
Principles of Design
Principles of Architecture
Budgeting
Vendor management
Project management
FF&E selection
Furniture design
Lighting design
Commercial design
Residential design
Home Renovation
Sustainable design
Knowledge of statutory legislation, building regulations, and safety standards
Microsoft Office Suite
#8. Leverage Optional Sections
When you walk into a room, you might find yourself thinking 'That corner needs a statement piece'.
Well, the same thing goes for your resume.
Once you've listed everything we covered so far on your resume, you can fill up any blank spaces by adding a few optional sections.
These sections are like the beautiful decorative pillows to your resume – they're not essential but they can really elevate the overall look of your application and set you apart from candidates with a similar professional background and skills.
Here are some sections you can choose from:
Awards. You can add any awards you've been nominated for or received here.
Memberships. If you're part of any interior design societies or associations, you can list them on your resume.
Certifications. There are plenty of courses and classes out there that you can take to polish your skills and stay ahead of industry trends. If you've acquired any, show them off on your resume.
Personal projects. Plenty of interior designers remodel their own homes or those of their friends and family. If you have any interesting projects you've worked on in your spare time, they can make for an interesting section on your interior designer resume.
Languages. As an interior designer, you might have to work with international clients or vendors. Speaking a foreign language shows dedication, cultural awareness, and communication skills that can all make you a preferred candidate. 
Hobbies and interests. What you do in your free time can make you stand out from other candidates or even show the hiring manager how well you could fit in with the team and company culture.
Optional Sections for an Interior Designer Resume:

Memberships
American Society of Interior Designers
Japan Interior Designers' Association
Languages
Japanese (Native)
English (Bilingual)
French (Bilingual)
Hobbies & interests
Archery
Gardening
Reading
Embroidery
#9. Write a Cover Letter
You might be wondering if cover letters are still necessary when applying for jobs.
And the answer is – yes, they are.
Hiring managers expect a cover letter with your application and by not attaching one you might compromise your chances of getting an interview call.
Not to mention, when a hiring manager sees a cover letter, they see a candidate that puts in real effort. You're not just sending your resume left and right without even reading the job description – you're interested in this particular job.
Here are some cover letter tips you need to follow to create a perfect match for your interior designer resume:
Include your contact information in the header. Your cover letter's header should include your contact information and job title, just like your resume. Make sure the details like your full name, phone number, and email address match with those on your resume, and watch out for any typos.
Address the cover letter. Do your research and find out who the hiring manager is or the name of the department you want to join. They'll most likely be reading your resume and cover letter. By personalizing your application, you show the hiring manager you put actual effort into your job hunt and prove your attention to detail.
Start off on the right foot. Your opening paragraph should spike the hiring manager's curiosity. Add a top achievement or qualification to give yourself a strong start and describe the steps you took to achieve it.
Dive into the details. In the main body of your interior designer cover letter, provide details on your career so far and elaborate on anything from your resume that you didn't have the opportunity to, such as awards or particularly successful projects. Focus on how your experience and skills make you the right candidate for the job.
Close it professionally. Make sure to wrap up your cover letter with a call to action that invites the hiring manager to do something, like arrange an interview or contact you. Use an appropriate closing line at the end before signing off your name
Now that you know the steps to writing a cover letter, it's time to read a great example written for an interior designer:
Key Takeaways
And that was the full scope of your resume makeover!
Follow everything we covered so far, and you're a shoo-in for that interior designer job you have your sights set on.
So let's recap what we covered:
Design is everything and your resume is no different. Use a professional resume template and a reverse-chronological format to give the hiring manager exactly what they're looking for at a glance.
Add an attention-grabbing resume summary to your resume's header. This brief introduction to your resume should include your top skills, achievements, and years of experience.
Detail your work experience so far, with 5-6 bullet points for recent roles, and 3-4 for older ones. Focus on achievements over responsibilities wherever possible.
Separate your soft skills from your hard skills, and make sure they're tailored to the specific job you're applying for. Use the job description as a reference.
Create a beautiful interior designer portfolio website and provide a link to it on your resume. If the job application requests a physical portfolio, make sure you follow the required dimensions.
And wrap your interior designer resume up with an equally well-crafted cover letter.