Here you are, looking at a blank document that's supposed to be your cover letter.
You have a general idea of what your cover letter is supposed to be about, but you're having trouble writing those first few sentences.
We get you! Whether you're writing your resume, an article, research paper, or a cover letter, getting started is sometimes the hardest part.
Lucky for you, though, there is a very straightforward way to get started with your cover letter, and in this article, we're going to teach you how to do that!
Read on to learn how to effectively get started with your cover letter! 
Here's what we're going to cover:
What should your cover letter opening contain
What to include in your contact information
How to start a cover letter greeting
How to write an attention-grabbing opening paragraph
6 Examples of how to start your cover letter
What Should Your Cover Letter Opening Contain
To successfully get started with writing your cover letter, you should include these 3 main elements:
The header with contact information. Includes your & the recipient's contact information.
The greeting to the manager. This is where you address the cover letter by greeting the hiring manager, department, or company.
An attention-grabbing opening paragraph. The opening paragraph of your cover letter is your chance to grab the recruiters' attention and get them to read the rest of your cover letter.
Below, we'll teach you how to do each of them in the right way.
If you're applying for an entry-level job and wondering what's the best way to write your cover letter, head over to our article on entry-level cover letters. 
What to Include in Your Contact Information 
As we mentioned, the first thing to add to your cover letter opening is your contact information. 
The header's essential information include the following: 
Full name and professional title (if applicable)
Phone number
Email (a professional email, that is)
In some cases, you can also add the following: 
Social media profiles. By this, we mean profiles that are relevant to the position. This includes websites like LinkedIn, GitHub (for developers), or Medium (for writers).
Personal website. If you have a personal website you've created for your industry (i.e. you're a writer with a blog), then make sure to include the link to your website on your cover letter.
After you've added your information, you should add the date and continue with the recipient's name and address. So:
Manager's name
Manager's job title
Company's name
Company's street address
Once you've done this, here's what your cover letter will look like:
And just like the essential DOs, there are also some things you should NOT include in your cover letter header: 
Unprofessional email. It's going to be difficult for a hiring manager to take you seriously if your email address is something you coined when you were still a teenager (i.e. alextheplaya@hotmail.com). 
How to Start a Cover Letter Greeting
After you've properly listed your contact information, it's time to start writing your cover letter. 
The first thing this includes is addressing the cover letter to the hiring manager. 
Yeap, that's right! And by greeting the hiring manager, department, or company, we don't mean using the old-fashioned "Dear Sir/Madam," or "To whom it may concern."
Instead, you want to show your future employer that you've done your fair share of research about the job/company and that you're not just using one cover letter template to apply for ten jobs. After all, one of the most common mistakes job seekers do (84% of them!) is not finding the hiring manager's name and personalizing the application.
So, make sure to address the hiring manager that's going to review your manager directly. 
Now, there are a few ways you can do that. 
The simplest - and most obvious - option is to look up the head of the department you're applying to on LinkedIn. 
Let's assume that you're applying as a Communications Specialist at Novoresume. The hiring manager is probably the Head of Communications or the Chief Communications Officer. 
After a quick LinkedIn lookup, you can probably find out who that person is (that's me!).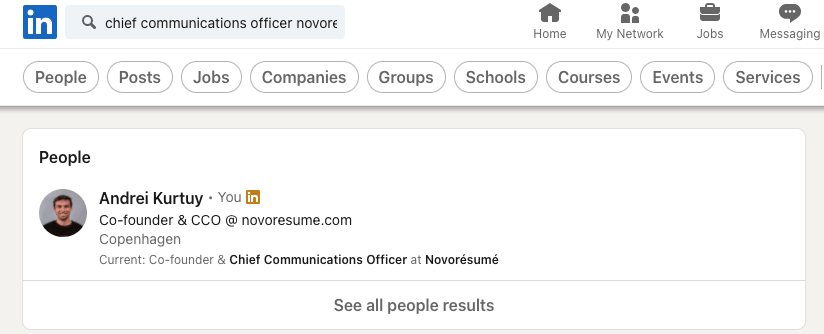 And just like that, you have your hiring manager! Piece of cake!
Not a fan of LinkedIn? You can also check the company's website and look for the "Team" or "About Us" page.
If none of these work, consider using one of the following greetings when you're addressing the hiring manager: 
Dear [Department] Hiring Manager,
Dear Hiring Manager, 
Dear [Department] Team,
Dear Director of [Department],
Dear [Company Name] Hiring Team
How you conclude your cover letter is just as important as how you start it. To learn how to ace yours, head over to our guide on how to end a cover letter. 
How to Write an Attention-Grabbing Opening Paragraph
The last, but the most important, part of your cover letter opening is your opening paragraph. 
You want your opening paragraph to be engaging and attention-grabbing to ensure that the hiring manager will continue reading the cover letter.
After all, recruiters receive hundreds of applications daily. Obviously, they can't spend all their working hours reading cover letters, so, instead, they simply skim your cover letter in a handful of seconds, and if it catches their attention, they re-read it more thoroughly.
And the part of the cover letter that helps catch their attention is usually the opening paragraph! 
Compare these 2 cover letter openers and judge for yourself which one you'd rather read:
Do

Dear Mr. Brown,

My name is Anna and I'd like to help your company exceed its sales target as a Sales Manager. My 5-year experience as a Sales Representative at XYZ Inc. has given me substantial skills in sales. During my last year working there, we beat KPIs by around 50%. I believe that my strong track record in sales makes me the perfect candidate for the position. 
Don't

Hello, my name is Mary and I am interested in working as a Sales Manager for your company. I have 6 years of experience working as a Sales Manager for Company X, so I think I'm a good fit for the position. 
While there's nothing inherently wrong with the first example, it's not all that imaginative. Chances are, every other applicant is going to use a similar opening statement.
The second example, on the other hand, is more customized and personal, helping the recruiter understand why Anna is a good candidate for the role.
In this section we'll give you all the tips & tricks you need to ace your cover letter introduction:
Tip #1. Show Passion and Commitment
Showing the hiring manager that you're passionate about the job will instantly boost your chances of getting hired. It's not a secret that committed employees are more engaged and, therefore, more productive.
After all, research shows that engaged employees are 17% more productive than their peers. 
So, it's only logical that the hiring manager will greatly appreciate a candidate who shows commitment and enthusiasm. 
As such, these are both qualities that you want to showcase right from the start of your cover letter. Here's an example of how you can do that:
Example:

I have been immersed with human rights since I specialized in Conflict Resolution and started working with Amnesty International. During my 5 years of experience in the field, however, I haven't seen any organization do the work that you've accomplished with human rights. Your dedication makes me want to work for your organization and put my skills to use for the work you do. 
Tip #2. Mention a Mutual Contact (if Applicable)
If someone referred you to the position, the opening paragraph of your cover letter is a great place to mention that. 
Referrals are key to securing an interview, but at the same time they're not something you can mention on your resume, so take the opportunity to let the recruiter know at the start of your cover letter. 
The idea is that if someone the hiring manager knows recommended you for the position, your skills and qualifications immediately become more credible.
Example:

I was excited to learn about this job opportunity from John Doe, who has worked at your firm for five years. John and I worked on an architectural project together for over one year and he thought I'd be a good fit for the role at Company X. 
Tip #3. Prove You Have Researched The Company 
A generic cover letter will not give you many points in the eyes of your potential employers. 
The recruiter reading your cover letter wants to know that you're excited to be applying for that particular company, and you're not just applying to dozens of jobs randomly, hoping that one will stick. 
As such, it's very important to do some research about the company you're applying for, and in the cover letter, mention why you're a good culture fit. 
Example:

I have always admired the work that your organization does with vulnerable communities. I have always been passionate about social justice and I think the mechanisms you have in place to empower those in need are really making an impact. I believe my previous experience as a social worker could bring value to your mission.
Tip #4. Lead With An Achievement
There's no better way to grab attention than to lead with an achievement. It immediately gives you credibility and makes the hiring manager curious to read more about you. 
To make sure your achievements stand out, though, do this:
Whenever possible, make your achievements as quantifiable as possible. "Improved sales by 20% in 2 months" is more impressive than "improve sales."
Show how your past achievement is relevant or can add value to your current position. 
Example:

As a Public Relations representative for Company XYZ, I worked with the press to improve its reputation and public image. This translated into a 40% increase in customer satisfaction and better public reception of the company's values and identity. I am eager to yield the same results as the Head of Communications in your organization. 
Tip #5. Start With a Powerful Belief
A short and impactful belief statement that represents your work ethic and professional values is another great way to attract the recruiter's attention. Obviously, you get bonus points if said belief statement aligns with the company's goals and objectives. 
However, don't just copy-paste the company's mission statement to make a good impression. Rather, use your own words and beliefs to sound more genuine and original.
Example:

As a teacher, I believe every child should have access to quality education early on. This is the only way to ensure future generations' equity and the best chance we have at improving our society. I admire your institution's commitment to enabling quality education in the most remote areas of our country and I'd be honored to contribute to those efforts by becoming a teacher here. 
Tip #6. Be Direct  
Oftentimes, beating around the bush gets you nowhere. So, a great strategy to follow when you start writing your cover letter is to just be direct about the position you're applying for and the reasons you believe make you the perfect fit for the job. 
There's another upside to this. Recruiters receive hundreds of applications daily - sometimes, even for different positions within the same department - so it helps them to know what position you're applying for early on, as well as what exact qualifications make you the perfect fit for the job. 
Example:

I'd like to officially apply for the marketing manager position at Company X. Over the past 7 years, I've worked with 6 clients, helping them drive more than $2,000,000 worth of sales. I am confident that my marketing skills and proven sales results make me a perfect match for the position. 
Match your cover letter with your resume to make a better impression on the recruiter and reinforce your personal brand!
Key Takeaways 
And that's a wrap! 
Hopefully, you're now more confident about how you can start your cover letter!
Now, let's do a small recap of the most important points we covered in the article:
Your cover letter opening should contain a header with contact information, a greeting to the hiring manager, and an attention-grabbing opening paragraph.
Your header should include your contact information, such as your name, phone number, and professional email, the date, as well as the contact information of the recipient.
You should try to find the hiring manager's full name in order to greet them. If you can't find their name or title anywhere, then you should greet them using Dear Hiring Manager, Dear [Department] Team, or something similar.
The opening paragraph of your cover letter should grab the hiring manager's attention and make them want to read your cover letter. Some tips to write an attention-grabbing opening paragraph include being direct, starting with a strong belief statement, or leading with a relevant achievement.