DevOps is a set of practices that combines software development with IT operations. 
With the primary goal to optimize the flow of value from the original idea to the end user, the DevOps market size was valued at $3.62 billion in 2018 and is expected to reach $20.01 billion by 2026. 
This means that it's one lucrative industry to be in right now!
Before you land your next well-paid DevOps engineer role, though, you need to create an impeccable resume.
...Which is what our guide is all about!
We're going to teach you all you need to know about making your own DevOps engineer resume.
Here's what our article is going to cover:
DevOps Engineer Resume Example (To Inspire You)
Create Your DevOps Engineer Resume (Section-by-Section) 
30 DevOps Engineer Skills (For 2021)
And more! So let's dive right in! 
DevOps Engineer Resume Example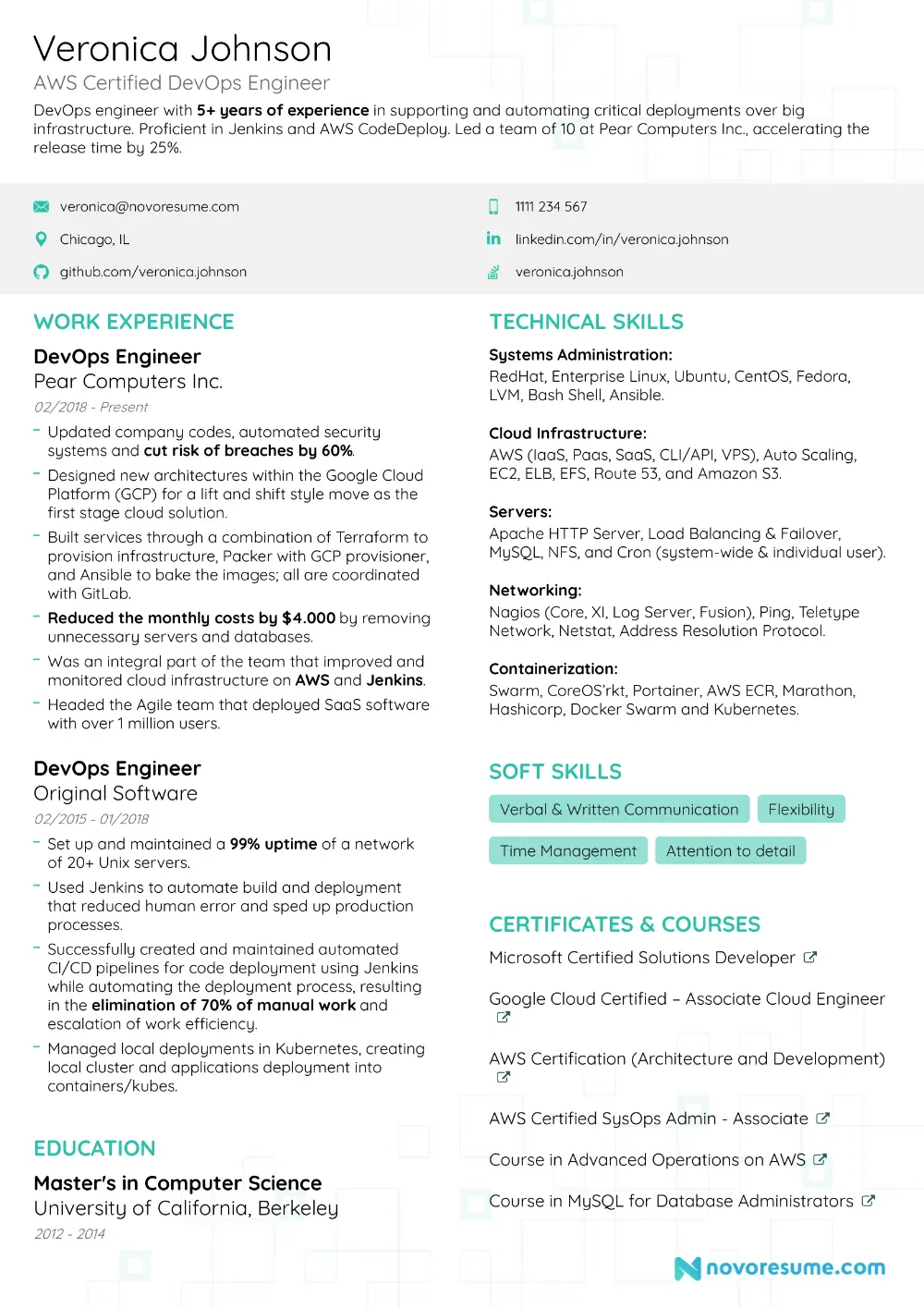 Now, let's go through all that makes this DevOps engineer resume a good example: 
Chronological format. As the most popular format among recruiters worldwide, it's the obvious choice.
Relevant contact details. In addition to the musts (full name and title, phone number and email), the devOps resume example above includes a LinkedIn URL. 
Strong resume summary. Through a short paragraph, the DevOps resume example lists the candidate's years of expertise, most relevant skills, and achievements.
Accomplishments over responsibilities. In the DevOps resume example above, the candidate lists his achievements over his responsibilities, as well as quantifies them as much as possible. 
Bullet points. The DevOps engineer resume example lists information in bullet points, which makes it easier to read.   
Basic education section. As a DevOps engineer professional with plenty of work experience to show for, the candidate has kept their education section short and to the point. 
Relevant DevOps skills. The DevOps engineer above doesn't list every skill he ever acquired. He knows how to keep recruiters' attention while saving their time by listing only relevant work skills. 
Add value with extra sections. The DevOps engineer resume example above lists the candidate's certificates (which only strengthen his experience and skills) and conferences he has attended (which help him stand out even more).  
Create Your DevOps Engineer Resume (By the Section)
Looking at a DevOps engineering resume might be inspiring…
But how do YOU create your own resume, with your own skills and experiences?
In this section, we'll walk you through the process of creating a DevOps engineer resume step-by-step! 
Starting with:
#1. Format Your DevOps Engineer Resume the Right Way
The best DevOps engineer resume format is the chronological resume.
This format is the most popular among recruiters globally so you shouldn't think twice about using it.  
The format focuses more on your work experience (than skills or other sections) by putting the section right up top of your resume.
After you've picked the format type, it's time to work on your resume layout. Here's what that involves:  
Use clear section headers, such as H2, to identify your resume's different sections. 
Pick the right font size and style so that your DevOps resume looks professional. In terms of font size, go for 11-12 pts for standard text and 14-16 pts for the section titles. 
Set the resume margins in a way that allows plenty of white space and gives your DevOps resume a clean look. 
Save your resume as a PDF file to keep your resume formatting intact no matter in what system or device it's opened (unless the company you're applying for specifically indicates you submit your resume in MS Word).
Switching fields in the IT industry? You might want to learn more about the functional resume format - a resume format that helps you focus more on your transferable skills than work experience.
Use Our Resume Templates  
Formatting a resume with text editors can be a real struggle. 
For one, the layout alone can take your hours to get right. 
You need to choose the right font and size, arrange the sections in order of importance, and adjust the margins.
And then, with one slight change to the resume, your picture ends up below the work experience section or your layout spills over to page #2.
Want to skip all this effort and STILL manage to create a gorgeous resume? Use a resume template!
All you have to do is pick your favorite template, fill in the contests, and you'll be ready to land that DevOps job you've always wanted!
#2. Add Your Contact Information
Once you've sorted out the format and layout, it's time to start filling out the contents. 
The first section on your DevOps engineer resume is the contact information section. This includes: 
Your name and surname
Your professional title and certification (if you have one)
Updated phone number
Email 
Location (City and State/Country)
If you have a complete LinkedIn profile, you can mention that here, too.
Here's an example of a DevOps engineer's contact information section:
Contact Information Example for a DevOps Engineer:

John Doe

AWS Certified DevOps Engineer

123-123-1234

NY, New York

linkedin.com/in/john.doe
#3. Write an Impactful DevOps Engineer Summary
The average recruiter spends around 6 seconds scanning your resume.
If they don't find the resume "relevant" in that small timeframe, they're going to skip over to the next one.
What this means is that you want to show the recruiter that you have the right skills and experiences from the very moment they lay their eyes on your resume.
The best way to do this is through a resume profile (also known as resume summary).
A resume summary is a 2-3 sentence summary of your career. Use it to provide an attention-grabbing preview of your professional experience by mentioning your role and years of experience, your key achievements in the field, and your most relevant DevOps skills. 
Here's what this would look like on a resume: 
DevOps Engineer Resume Summary

DevOps engineer with 5+ years of experience in architecting and automating integral deployments over big infrastructure. Proficient in Jenkins, Node.js, AWS and in developing CI pipelines. Leading a team of 5 in Company X, we slashed release time by 25%. 
#4. Describe Your DevOps Professional Experience 
The work experience section is probably the most important step to show the recruiter you have what it takes for the job. 
This is where you show off your DevOps experience, starting with your current/most recent position and going backward. 
Basically, begin each entry with your professional title, followed by the company name, the period you've worked there, and 4-5 of your achievements and responsibilities listed in bullet points.
You can list fewer achievements the further back you go in your career, but make sure to make them as quantifiable as possible. For DevOps engineers, a big chunk of achievements consists of increasing business outcomes, so attach a number to those results whenever you can. 
To get it just right, you can use the formula "Accomplished [X] as measured by [Y] by doing [Z]." 
In simpler terms, start with an active verb, numerically measure what you accomplished, provide a comparison baseline, and explain how you achieved the result. 
Here's a concrete example of a DevOps engineer work experience section: 
DevOps Engineer Work Experience Example:

DevOps Engineer 

XYZ Company

03/2013- 05/2016
Updated company codes, automated security systems and cut risk of breaches by 40%.
Set up and maintained a 99.9% uptime of a network of 20+ Unix servers. 
Headed deployment of SaaS investment tool, boosting company revenue by 25%.
Utilized Jenkins and AWS tools to slash release time by 30%
#5. Mention Your Education 
When it comes to DevOps engineering, your education section plays a smaller role compared to your skills and professional experience in the field. 
What you can do, however, is utilize your education section to back up your skills and experience! 
But let's take this step-by-step. 
First, format your education section as follows:  
Start by adding your latest (and highest) degree, your university's name and location, and the years attended, in this order. 
If you have a second advanced degree, include it below your first entry.
Don't include your high school education in your DevOps resume if you have higher education.
The end-result is going to look something like this:
Example:

Master's in Computer Science
NYU, New York 
09/2013 - 06/2015
Now, if you're a recent graduate with no practical DevOps work experience, you can always list relevant academic achievements and courses attended. 
Incorporate them under your education entry as bullet points and add value to your DevOps resume.  
Here's a concrete example:
DevOps Graduate Education Example

Master of Computer Science (MSC)

New York University, New York

2019 - 2021
Graduated top of the class in Programming. 
Helped the head of the CS Department to upkeep the university's internet network. 
President of Networking & Programming Organization. 
#6. Add Relevant Skills 
DevOps skills are as diverse as they come. 
A successful DevOps engineer should possess a mixture of hard skills (e.g. deployment, networking protocols, etc), soft skills (e.g. creative thinking, problem-solving, etc), and knowledge of different tools such as Unix/Linux, Jenkins, Docker, etc.
On a normal day, you'll have to work with team members, supervisors, and clients alike to creatively optimize business processes using high-tech tools. So, the richer your skills section, the better!  
That being said, the solution isn't to list ALL your skills. Recruiters probably wouldn't be very interested in how good you are at Photoshop, for example. 
The solution here is to list relevant skills! So, instead of listing skills you picked out of a list, do the following: 
Identify the most important skills from the job offer (e.g. Python scripting, SCM practices, team-work, problem-solving).
Make a mental list of your industry-related soft and hard skills, as well as tools you know how to use.
If any of the required skills match yours, make sure to include them.
30 DevOps Engineer Skills (for 2023)
Soft Skills
Collaboration
Problem Solving
Communication
Critical Thinking
Creative Thinking
Active Learning
Adaptability
Leadership
Perceptiveness
Decision Making
Hard Skills 
Operating Systems
Build and Release
Networking Protocols
Deployment
Source Control
Containers
Configuration Management
Programming
Monitoring
Tools
Unix/Linux
Jenkins
GIT
Salt/Ansible
Puppet/Chef
AWS/VMWare
Docker
Apache/Nginx
Python/Perl
Zabbix/Sensu
7. Make Use of These Additional Sections
Additional sections such as certifications, conferences, and publications can take your DevOps engineer resume to the next level. 
More specifically, they can help you by: 
Making you stand out from other applicants with the same qualifications as you. Imagine if recruiters are on the fence between you and another applicant with similar work experience and skills. Having your certifications or publications listed could really help make up their mind.
Making your DevOps resume more diverse. Companies don't just want to hire skilled engineers - they want to hire people that will fit into their company culture. These additional sections can help show the recruiter what you're passionate about, and how you're not just a good skill-fit, but also a culture-fit.
Here are some additional sections you can add to your DevOps resume:
Certifications, such as AWS Certified DevOps Engineer or Microsoft Certified Azure DevOps Engineer Expert
Publications, such as scientific articles on tech and business journals or magazines.
Recognitions, be them for exceptional technical abilities or teamwork.
Volunteer experience, especially if you don't have a lot of professional experience yet.
And here's a concrete example of this on a DevOps resume: 
Example:

Certifications
AWS Certified DevOps Engineer
Microsoft Certified Solutions Developer
Conferences
The DevOps Conference 2020
Interests
Renewable Energy 
Artificial Intelligence
#8. Attach a Cover Letter To Your DevOps Resume
We know, we know...you're an engineer, not a writer.
Nonetheless, your cover letter is equally important to your DevOps resume when you're applying for jobs. 
Specifically, it allows you to provide additional relevant or interesting information that you may have not been able to in your resume. 
For this reason, your cover letter needs to be on a par with your resume. Here are some tips on how to write a cover letter the best way possible: 
Don't address the recruiter that will read your cover letter with the old-fashioned and overly popular "To Whom It May Concern" or "Dear Sir/Madam." Instead, use their full name, last name, or professional title. 
Start your cover letter with an attention-grabbing introduction. 
Use the body of your cover letter to describe your recruitment experience, skills, and qualifications more in detail than in your resume. 
End your cover letter with a strong closing statement and a call to action. 
Go through our guides on cover letter tips and cover letter mistakes to make sure your cover letter is nothing short of perfect. 
Want your cover letter to match your DevOps resume? Choose one of Novorésumé's cover letter templates and get the full package. 
Key Takeaways
And THAT's how you write a successful DevOps engineer resume. Before you start writing yours, remember: 
Make sure to add as many accomplishments under your work experience entries as possible. Whenever you can, make those achievements quantifiable. 
Check the job description for required skills and qualifications. If you have them, list them as bullet points under your work experience or education section. 
Never lie about your skills. It's better to list fewer skills that you're completely confident about, than to list whatever skill you think would catch the recruiter's eye. 
Enrich your DevOps resume using additional sections such as certifications, publications, or the conferences you've attended.