CV design is important, but it's not always easy. 
A well-thought CV design highlights your qualifications, complements your application package, and relates to your industry. 
However, unless you're a graphic designer, chances are you've struggled with CV design in the past. You spend long hours trying to make your CV stand out…
But as soon as you make a single design change, the entire layout gets messed up (you'll relate if you've ever used a word resume template!).
Fortunately, though, you can avoid all this hassle if you use a CV template! 
All you have to do is pick one of the 9 templates covered in this article, and you're good to go.
So let's dive right in!  
8+ Best CV Design Templates
#1. Basic CV Template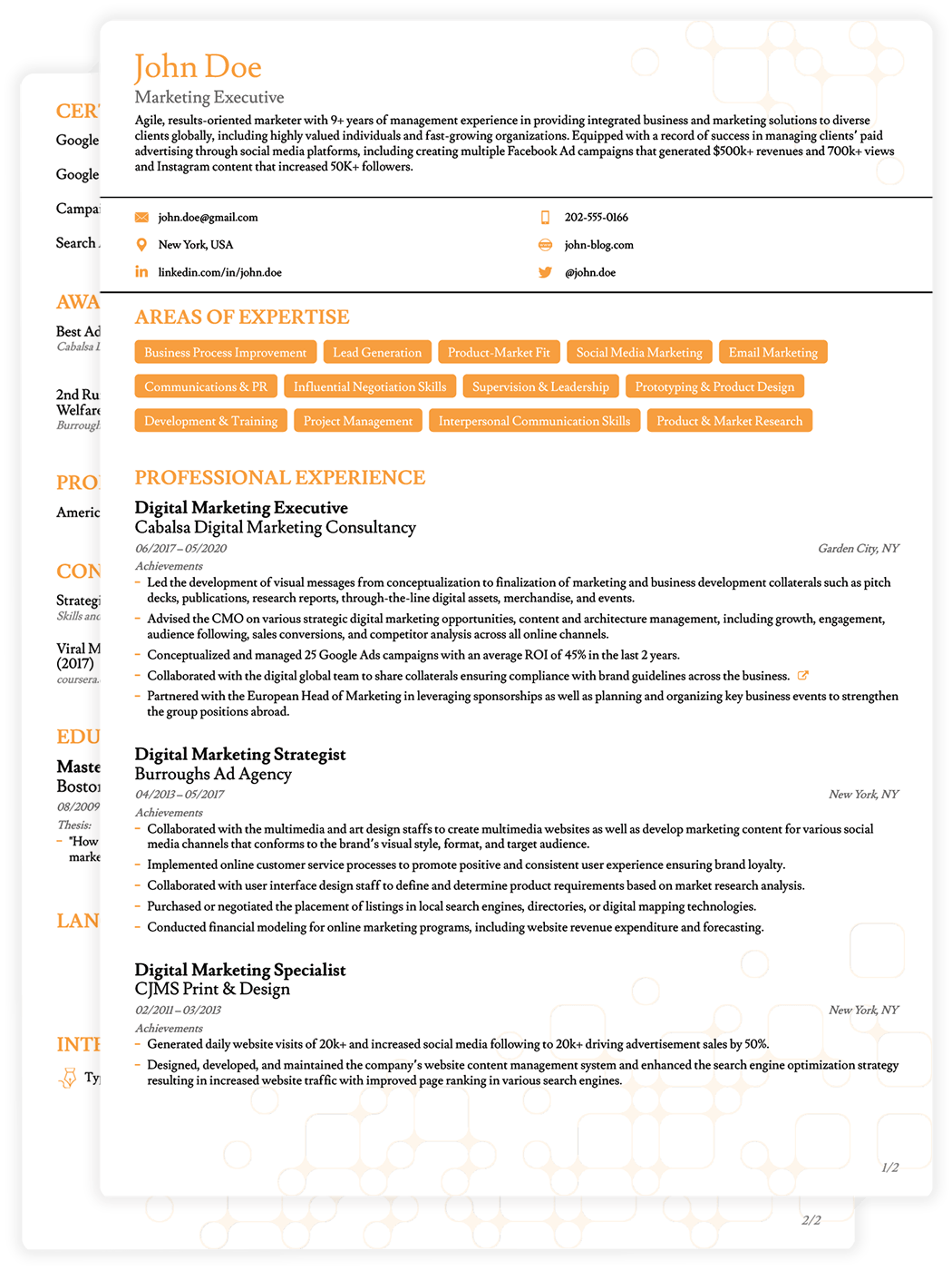 The basic CV layout can be used both in classic and creative industries, as you can easily personalize it to your needs. 
This template first highlights your job title and your CV summary.
Then, it continues with your personal information and areas of expertise, and finally, it features a work experience history section.
It's the perfect CV design if you prefer a simple, clean-cut look that allows your experience and qualification to do the talking. 
Are you finding it hard to write your CV? We've got your back! Our guide on how to write a CV has all you need to know about how to easily write a convincing CV.  
#2. College CV Template 
The college CV template best serves students. In particular, this template is perfect for those applying for internships or jobs in academia, or research-related positions requiring more than 1-page of information from applicants. 
The template lets you list your CV summary/objective and contact information, your work experience and education, as well as any relevant certificates, awards, or conferences and courses.
The terms CV and resume are often used interchangeably, but they're not the same thing. If you're having trouble deciding which one to choose, give our article on the differences between a CV and a resume a read! 
#3. Executive CV Template
Are you a seasoned professional with 5+ years of experience? A CEO applying for a new position? A university professor? Then this is the choice for you! 
The executive template puts the spotlight on everything a professional might want to highlight, including their areas of expertise, professional experiences, certificates, awards, and languages. 
#4. Creative CV Template
The creative CV template is perfect for people applying for jobs in young companies or startups that highly value creativity and innovation. 
The template emphasizes your picture, job title, CV summary/objective, and contact information through the use of bold colors and straight lines.  
#5. Functional CV Template
The functional CV format is among the most popular, especially with recent college graduates, those who lack industry experience, or professionals going through a career change. 
Since it mainly focuses on a candidate's skills as opposed to their work experience, the functional CV template does a good job highlighting your strengths and removing the spotlight from any career gaps. 
#6. Modern CV Template
If you have some achievements to show from your previous jobs, then this CV design is the one for you! 
Novorésumé's Modern CV template offers ample space in the work experience section to list exactly how you excelled at a previous company and how that impacted overall performance. 
#7. Professional CV Template
Have you ever wondered, while thinking about your CV design, how recruiters picture the perfect CV (appearance-wise, that is)? 
We surely have, so to create this template we collaborated with multiple recruiters to increase your chances of standing out and getting a job. With CV design worries out of your mind, you can solely concentrate on getting the job of your dreams.  
Finding a job can be a time and energy-consuming struggle, and you might feel like giving up from time to time. Our ultimate guide on job hunting can significantly ease the process for you!  
#8. Simple CV Template
The simple CV template was specifically designed for seniors or any professional with extensive experience in conservative industries such as law or banking. 
In short, this template "cuts" out your picture from the CV and limits white spaces, giving you ample opportunity to show off your noteworthy career. 
5+ CV Writing Tips
Getting your CV design right is a great start to an impactful CV, but it surely doesn't end there. 
Here are some important CV writing tips to help perfect your CV: 
Pick the optimal CV format. How you format your CV greatly depends on your experience and the job you're applying to. That being said, some sections (e.g. contact information, resume summary/objective, work experience, education, and skills) are CV must-haves. Others, like certifications, awards, or volunteer experience, are optional.  
Add your contact information (the right way). The following elements shouldn't be missing from your contact information section: first name and last name, phone number, email address (optimally a professional one that consists of your first and last name), your professional title, and your location. 
Write an attention-worthy CV summary or objective. Now, your CV summary or objective is where recruiters first get a glimpse of the actual you (and not just the CV design you've chosen), so you should see it as your attempt at an elevator pitch with 2-3 sentences. If you have more than 2 years of work experience, go with a CV summary. Otherwise, stick to writing an objective. 
Show off your work experience. The standard format for a perfect work experience section is starting with the job title and position, company name and location, employment period, and your achievements and responsibilities there. 
List relevant skills. List your soft skills and hard skills. Additionally, consult the job description as it usually includes what the employer is looking for in terms of skills.   
Include your education. Your education section must include the Program name of your highest-level degree, the university name, and the years attended. Your GPA, academic achievements, and minor(s), on the other hand, are optional.    
Do you still feel unsure about the quality of your CV? Give our guide on how to write a CV a closer look and put your mind at ease! 
Key Takeaways 
And that's a wrap! We hope the article has helped you decide which CV design best fits your professional profile. 
Let's go over the main points we covered before you start with your CV design: 
Your CV design should relate to your professional field and help you highlight your qualifications and strengths as a candidate. 
CV design can turn into a tiresome task, as choosing the right fonts, headings, and sections, and then creating them from scratch takes time and creativity. 
For this reason, it's advisable to use CV templates - they come pre-designed, so all you have to do is fill in your CV information. 
In terms of CV design, some of the best templates out there include Novoresume's executive template, professional template, and creative template, and Freepik's minimalist template.    
Other CV writing tips include picking the optimal CV format, adding your contact information the right way, writing an attention-worthy CV summary/objective, and listing relevant skills.