Being a CEO surely comes with many benefits and advantages, but it doesn't "save" you from having to hand in a CEO resume to apply for an executive position. 
Actually, one could argue that a CEO resume needs to be even more impactful than a traditional resume. 
But what exactly does that mean, other than it needs to be professional and follow the best CEO resume practices, such as proper language and formatting?
This is what this article is here to teach you!
Here's what we're going to cover:
Practical CEO Resume Example (To Inspire You)
What Does a CEO Resume Contain?
How to Write a CEO Resume in 7 Easy Steps
CEO Resume Template 
…so let's dive right in! 
CEO Resume Example
The below example is Satya Nadella's one-page CEO resume. 
After 22 years working in different departments of Microsoft and learning the company inside and out, Satya Nadella was named the CEO in February of 2014.
His CEO resume shows you the highlights of his career and can serve as an inspiration while you're writing yours.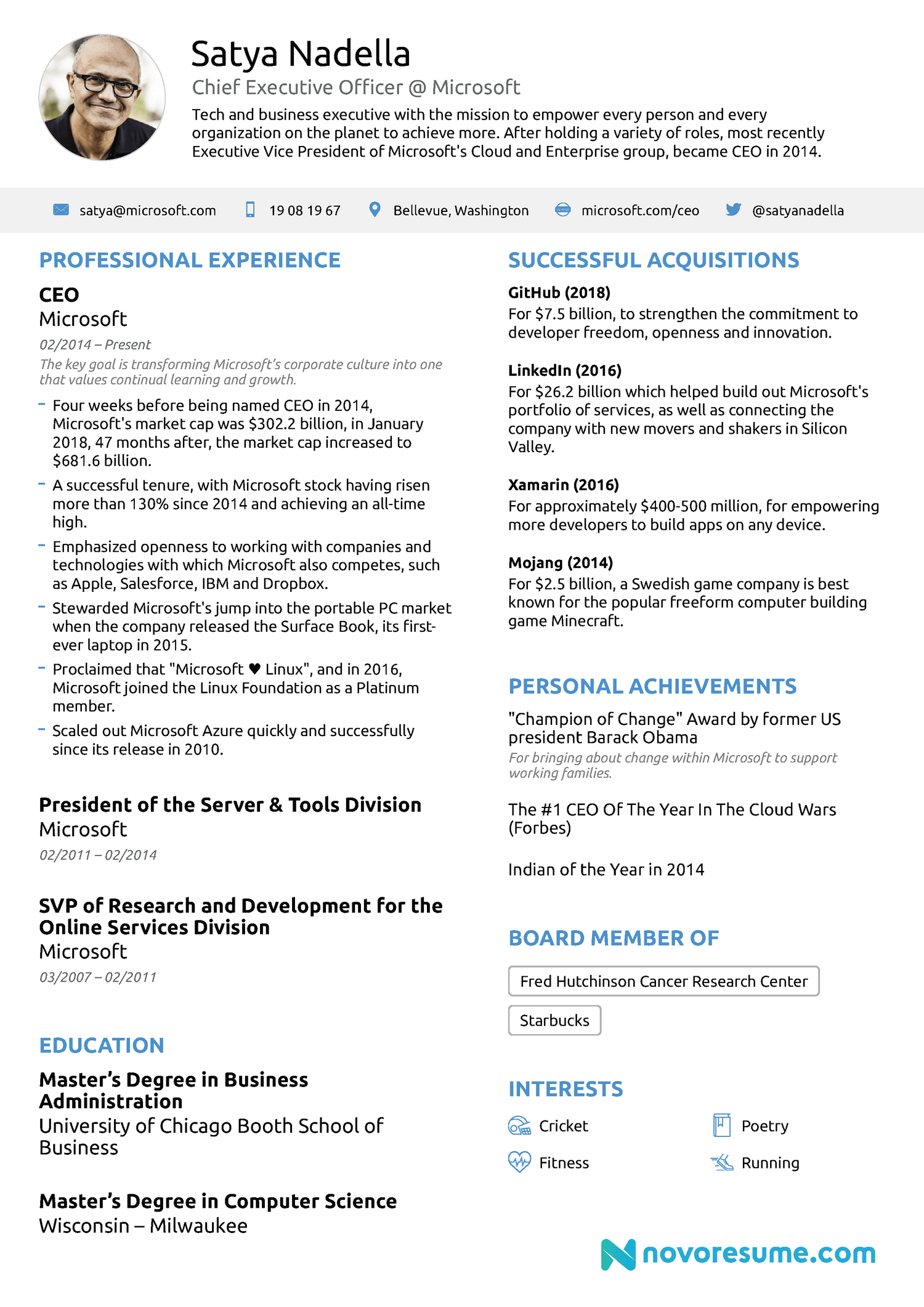 What Does a Chief Executive Officer's Resume Contain
Before going into detail, let's first go over the essential components of a CEO resume.
Those are: 
Header with contact information, where you add your full name and professional title, phone number, email, and LinkedIn profile/link to your professional website.
Resume summary/objective, which is essentially an attention-grabbing introduction of yourself and your most noteworthy achievements.
Work experience section, where you include your professional experiences, starting from the most recent to the least recent one.
Education section, where you list your highest degrees, all the way to your Bachelor's degree.
Skills section, where you should list all the skills you have acquired throughout your career.
Additional sections, such as certifications, foreign languages, awards, interests, memberships, and even volunteer experience.
How to Write a CEO Resume
Now let's take a look at how you should write each section of your CEO resume:
#1. Choose the Right CEO Resume Format 
The best CEO resume format is the chronological resume. 
While both the functional and combination resume formats are decent alternatives, the chronological resume is ideal for people with plenty of work experience that is relevant to the position they're interested in. 
Additionally, you should also follow these formatting tips: 
Use clear and bold headings (e.g. H2) to identify the different sections of your resume.
Pick the right font size and style to ensure your CEO resume looks professional.
Allow plenty of white space around your resume margins, as they give your resume a clean look.
Save your resume as a PDF file—it never messes up your formatting, it's compatible with any system or device, and it looks way more professional than MS Word.
As a CEO, you probably have more professional experiences to show for than other people. This means you don't have to limit your CEO resume to the recommended one-page length.
#2. Write an Impactful CEO Resume Summary
Your resume's summary serves as a quick introduction to your professional profile. 
It is important because, in just a few sentences, it can sum up your: 
Experience
Skills
Background
Achievements 
As such, an effective CEO resume summary can help grab recruiters' attention like bees to a honeypot and ensure you the executive position you're after. 
Use the summary to give a detailed account of your executive experience based on some of your most noteworthy measurable achievements. 
Here's an example of a winning CEO resume summary: 
CEO Resume Summary Example

Marketing executive with the mission to innovate and improve overall company performance. With a long career in public affairs, I am now Executive Vice President of Ketchum Inc.'s Technology Industry. Expert at Digital Strategy and Analytics. 
#3. Pay Attention to Your Resume's Professional Experience Section 
The work experience section is the core of every CEO resume.
This is where you show off your decade's worth of work experience and achievements. Here's how to do it right: 
Start with your current/most recent position, continue with the one before, and so on. 
Begin each entry with your professional title, followed by the company name, the dates you've worked, and 5-6 of your achievements listed in bullet points. 
List fewer responsibilities and achievements under your older jobs (e.g. 1-2 bullets). 
Make your achievements as quantifiable as possible (e.g. "company stock achieved an all-time high of 120% within a 2-year period", as opposed to "increased company stock"). 
Don't let your work experience section be bland. Instead, use active voice and action verbs (e.g. achieved, stewarded, increased, led, emphasized). 
Don't write a one-fits-all professional experience section. E.g. If you're applying for two positions, use your diverse work experience to customize your resume based on the job description, instead of applying with a one-size-fits-all CV.
Sounds simple enough, right? Now, let's look at a concrete work experience section of a CEO resume:
Example
Professional Experience
Chief Executive Officer
XYZ Inc. 
01/2017 - 08/2022
Successfully led teams of over 400 employees in 3 locations.
Initiated transition to mobile technology, which is now responsible for 50% of overall sales.
Promoted closer cooperation with tech companies, thus reaching a new age demographic that increased profits (18-25 years old).
Increased company revenue by 150% in a 3-year span.
Senior Manager
Best Place Group 
06/2012 - 12/2016
Increased client retention rate by 170% by implementing cutting-edge technology such as e-services and mobile payment.
Exceeded company's KPI-s by 70% within the first six months of being a senior manager.
#4. Don't Overlook Your Education Section
Your education section comes right under your professional experience and is similarly important when it comes to your CEO resume.
Follow these guidelines to make sure your academic background shines through: 
Begin with your latest (and highest) degree first, followed by the institution's name and location, and the years attended. 
If you have two Masters' Degrees or a second advanced degree, continue by including it in your education section.  
Leave your high school education out of your CEO resume. 
Let's look at how that looks on a CEO resume:
Example
Education
Ph.D. in Business Administration 
College of Business Administration  - University of Illinois, Chicago 
2013 - 2015
MSc in International Business Management 
GISMA Business School, Berlin
2012 - 2013
25+ CEO Skills to Use on Your Resume
To give you a head-start here's a list of CEO-related skills that you can use in your CEO resume:
Business Strategy & Planning
Work under pressure
Business finance
Management operations
International business
Business law & business Ethics
Attention to detail
Accountability and determination
Accounting and finance management
High-stakes negotiation
Risk management
Business analysis and intelligence
Organizational restructuring
Public relations 
Project management skills
Verbal and written communication skills
Management skills
Decision-making skills
Critical thinking Skills
Creative thinking Skills
Time management skills
Problem-solving skills
Technical skills
Leadership skills
Collaboration and teamwork
Innovation
Risk-taking 
Adaptability
Foresight
Reliability
#6. Make Sure to Include These Additional Sections 
There's a fine line between great and perfect, and including some additional sections to your CEO resume is what can help you achieve the latter. 
The following sections can help you stand out from other executives applying for the same position and give your resume the individuality and diversity a truly successful CEO needs:
Certifications, such as Project Management Certifications (PMC), or Sales Certifications. 
Personal achievements, including professional recognition outside your industry. 
Awards, especially job-related ones. 
Memberships, (e.g. Board Member of the XY Medical Research Centre). 
Hobbies and interests, (e.g. fitness, poetry, traveling). 
Foreign languages, with special emphasis on languages you're fluent in. 
#7. Attach a Cover Letter to Your CEO Resume
Including a cover letter matters just as much as your CEO resume when it comes to your executive job search. 
It's important to have one because: 
A cover letter for an executive position is just as essential as for any other position. 
It allows you to provide additional relevant and interesting information about your skills and executive experience that your CEO resume doesn't. 
Here are some instructions on how to best write a cover letter: 
Start your cover letter effectively and make sure to include an impactful introduction. 
Use the body of your cover letter to describe your executive experience and management skills in a more engaging and detailed way than in your resume. 
Include achievements that support your CEO resume claims and prove your capabilities. 
End your cover letter with a strong concluding statement and a call to action. 
Consult our guides on cover letter tips and cover letter mistakes to ace your cover letter. 
CEO Resume Template
Creating your CEO resume from scratch might turn out to be more time-consuming than you originally thought. 
Traditional software like MS Word can give you a hard time formatting your resume exactly how you imagine it, while their templates are outdated at best and boring at worst. 
Nóvóresume's free resume templates instantly solve all those issues. You have 8 free resume templates to choose from—executive resume template included! 
By using Novoresume's free resume builder, you save time and effort by only having to focus on properly listing your skills, achievements, and qualifications. 
Key Takeaways 
And that's a wrap on all things CEO resume-related. By now, you should be equipped to write a top-notch CEO resume and continue climbing the success ladder. 
Let's go over the article's main points again for good measure: 
Your CEO resume should contain a header with contact information, a resume summary/objective, a work experience section, your education background, a skills section, and additional sections, such as certifications, awards, interests, etc.  
Choose the chronological resume format to build your CEO resume. 
Write a resume objective if you don't have extensive experience as a CEO. Otherwise, add an impactful resume summary to your CEO resume. 
List relevant quantifiable achievements under each entry in your work experience section. 
Some additional sections you can add to your CEO resume include certifications, personal achievements, memberships, and foreign languages. 
Use a ready-made template to save time and effort when you're writing your CEO resume!