CV templates
Why Should I Use a CV Template?
Our CV templates are designed in consultation with recruiters and employers, which ensures that they increase readability and highlight content across multiple pages.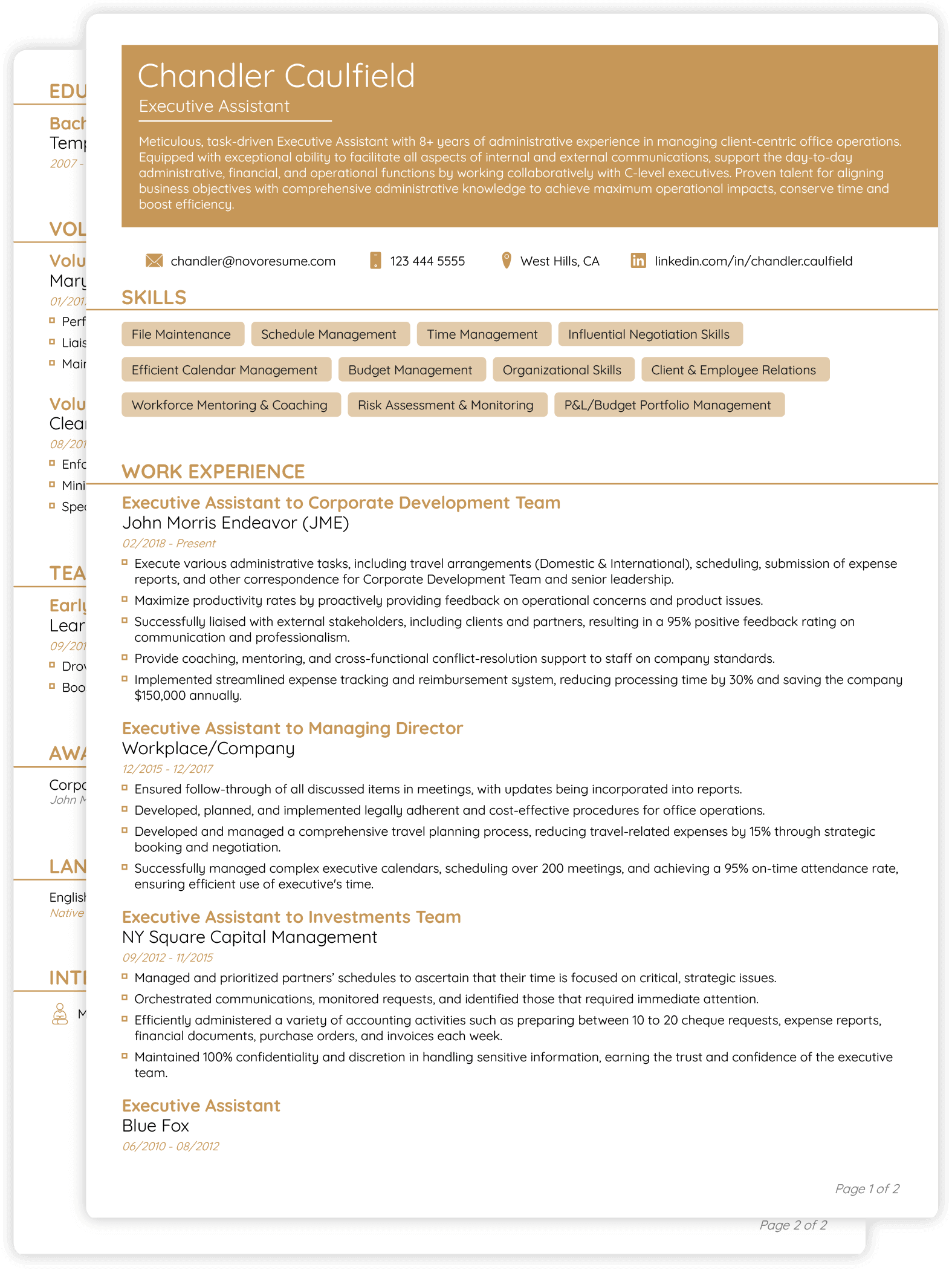 A functional CV template that is suited to listing your work experience and skills developed over a lengthy career (10 years).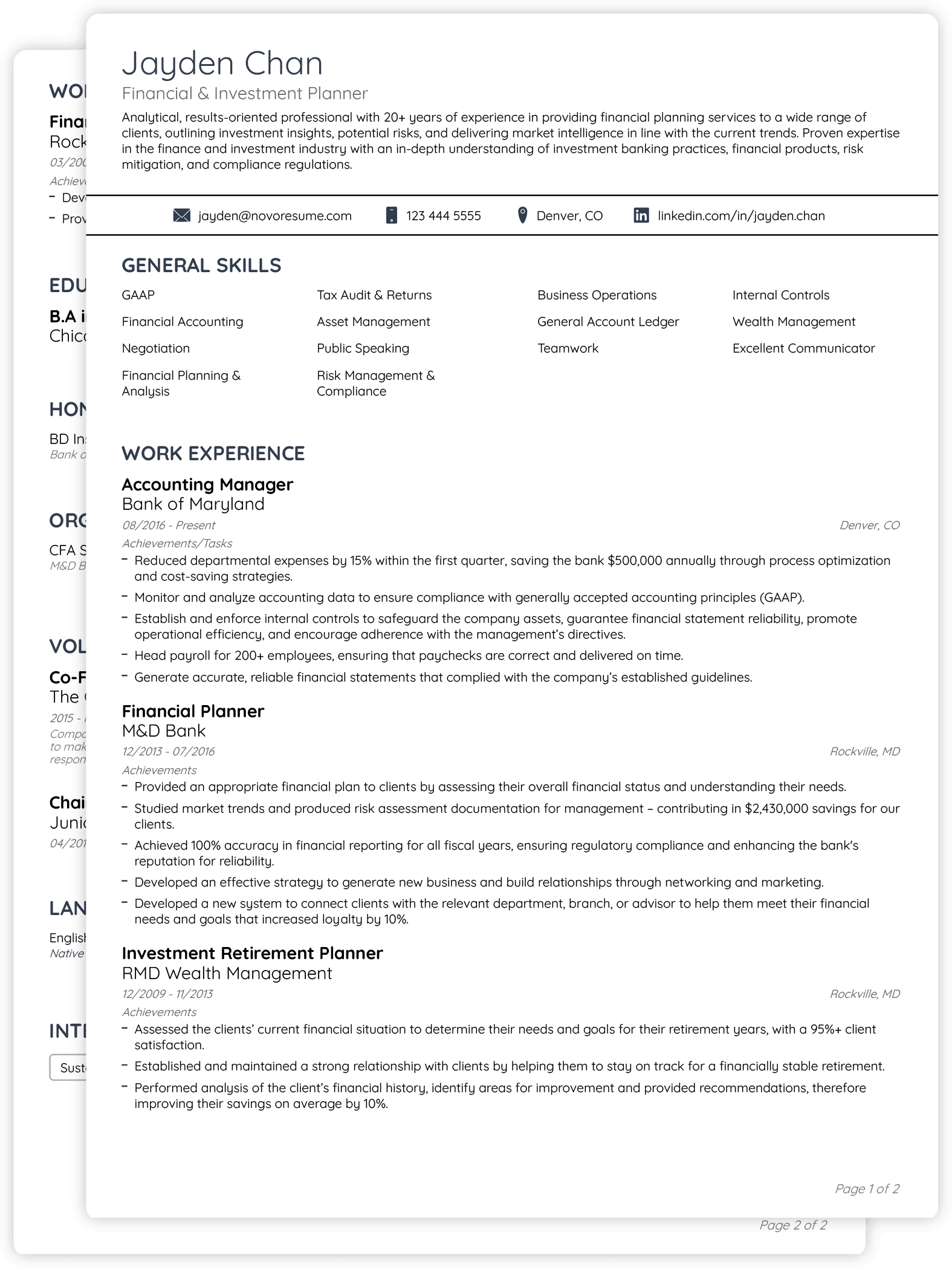 A basic CV layout that can be used in both classic and creative industries. Personalise this template easily based on company or industry.
Here's what our clients are saying
More about CVs
What to Include in a CV?
Contact information: phone number and a professional email are essential.
Professional Title: it should be the same as the job opening title if you have the necessary skills and experience.
Professional Summary: highlighting your most important achievements and skills.
Professional Experience: list your relevant work experience in reverse chronological order.
Achievements: for each previous position you list, it is really important to mention your achievements rather than simply tasks you completed.
Skills: include the skills that are relevant for the specific job you are applying for and remember to distinguish the soft skills and hard skills.
Extra sections: such as Personal Projects, Conferences and Courses, Publications, Volunteer Experience, etc. Include only if they are relevant to the company or job you are applying to.
What is the Format of a CV?
For CVs the recommended format is one column since this improves readability across multiple pages. Remember that CVs typically have their information organised in reverse chronological order.
This applies to sections listing Professional Experience, Projects, Achievements, Education, Volunteer Work, etc. Just keep in mind that it's always best to start your CV with the main content sections: Skills/Expertise and Work Experience
What Is a Senior Curriculum Vitae (CV)?
A senior Curriculum Vitae (CV) is a professional document that provides a full overview of your work history and educational background.
It is intended for professionals with five or more years of experience since a CV contains multiple pages for listing skills, accomplishments, work history, and other elements that will help job applicants show their value.
How Long Should a CV Be?
The key difference with a Senior CV compared to a standard CV is that it allows for multiple pages. Unlike a standard CV, a Senior CV can run 2-3 pages since it is intended for individuals with 5 years of work experience or more.
We identified the recommended CV length of 2-3 pages through extensive research with recruiters and employers across a variety of industries.
How to Write a CV?
Writing a CV follows many of the same rules as a standard CV except it contains more information. Making sure this information is laid out in an organised fashion is especially important for persuading recruiters.
By choosing one of the above pre-defined layouts, you will not have to worry about font sizes, alignments, or what sections to include. This design work is already done for you so you can focus on developing the content.
What Is the Best CV Format?
There really is no "Best" CV format since each recruiter/employer has their own preferences for applications. But there are still a few design standards that most recruiters agree upon, and we've incorporated these into the above CV templates.
A good CV will have the following main content sections: Work Experience, Skills (technical and soft skills), Education (relevant to the role), Languages, Personal Projects and Volunteer Experience. Of course, you can also add other sections that are relevant.
Expert Reviews
Even for professionals, with 5+ years of experience, Novorésumé has a variety of templates with different options for layouts. What I love about this section is that the end result is nevertheless professionally crafted, easy to read and eye-catching. The common challenge I encounter in my work with ambitious professionals is the struggle to comprise many years of work experience in max. 2-3 pages. Not only the design alone but the content and the structure of such templates on Novorésumé's website makes a CV writing a constructive and fun experience.
Novoresume's CV template bring some order into your professional history and moreover helps the recruiter help you.
Our Templates Explained
CV Template PDF
The CV templates generated through novoresume.com are available in PDF. This format allows for a consistency across different devices and it is more secure.
The myth of automated tracking systems (ATS) not reading PDF files is no longer true. Companies have upgraded to modern ATSs that can read the PDF-text-based files generated through novoresume.com.
CV Samples
We suggest you use the above CV samples as inspiration, but that you still tailor them to specific job applications.
Be sure to research the company and industry you are applying to in order to find out the company's culture and what fonts, colours and styles are appropriate.